Welcome to Blogging Away Debt.  We're glad you're here! This blog is all about our journey to get rid of debt! Learn more about us here:
Current Bloggers
Vicky

Vicky Monroe is a freelance personal finance and lifestyle writer. When she's not busy writing about her favorite money-saving hacks or tinkering with her budget spreadsheets, she likes to travel, garden, and cook healthy vegetarian meals.
Rebekah

Beks is a full-time government employee who enjoys blogging late into the night after her four kids have gone to sleep.  She's been married to Chris, her college sweetheart, for 15 years.  In 2017, after 3 long years working the Dave Ramsey Baby Steps, they paid off more than $70K and became debt-free.  When she's not working or blogging, she's exploring the great outdoors.
Lindsey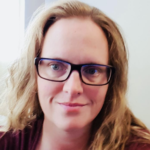 Lindsey is a freelance writer in the personal finance and lifestyle sphere. When she's not at her laptop, she is likely teaching herself a new hobby with a high potential for injuries – such as skiing or cooking. Connect with her on LinkedIn and Twitter.
Sara
Sara is a writer, reader, and mom to three kids. When she's not making peanut butter sandwiches or helping find lost shoes, she helps her husband run their family business.
Debt has been a constant third wheel in her marriage. From school loans to business lines of credit, she and her husband are sick of owing money to other people. The past year, they've worked harder than ever to ditch their debt for good. They still have far to go, but she's excited to share their journey to financial freedom.
Elizabeth S.
Elizabeth is a single woman in her early 30s, working as a manager at a software company and living in the most expensive city in Canada. She hopes to blog about her journey to eliminate debt and build savings for homeownership someday. Whenever she has taken two financial steps forward, she's always taken a step back with a bad credit card purchase (we're looking at you, unnecessary iPhone of May 2019). Elizabeth lives alone with her fur kids, a dog and a cat, and when she's not in front of the computer, she enjoys running, camping, reading, and baseball.
Hope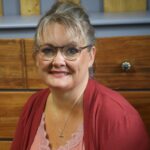 Hope is a digital marketing manager and foster/adoptive single mom to five kids. She has run her own consulting company for over 15 years and took a leap of faith returning to the corporate world in 2021 to a job and team she loves! Hope began sharing her journey with the BAD community in the Spring of 2015 and feels like she has finally mastered the balance between family first and wise financial decisions
Ashley L.
Ashley L, here! I am an educator in my early 30's.  I live in a southern city and when I am not working with children, I devote my time to my "doghter", a Chihuahua fur-baby. In my leisure time, I enjoy traveling, writing, and reading.
One of my primary goals is to create financial security for myself, which has led me on a journey to pay off debt. A recent step that I am proud of taking is earning my third degree while decreasing my student loans to under $7,000. Come along with me on my journey!
James H.

James is a mid 40 something credit card debt-aholic. He's got a wife, two kids, and a condo in Portland, Oregon.  He likes hunting, rugby, reading history, and investing. He runs the back end and server administration side of the site.  You'll occasionally see him posting stuff or updating old links.  If something is broken or messed up, email him at james.c.hendrickson(@)gmail.com.
Syndicated Bloggers

Amanda Blankenship is the Director of Social Media for a small independent media company. In addition to her duties handling everything social media, she frequently writes for a handful of blogs and loves to share her own personal finance story with others. When she isn't typing away at her desk, she enjoys spending time with her daughter, husband, and dog. During her free time, you're likely to find her with her nose in a book, hiking, or playing RPG video games.
You can also check out more of Amanda's articles at OurDebtFreeFamily.
Before us, there were others. Here are the stories from our BAD blogging predecessors:
Former Bloggers
Ashley
I'm an early-30s, married, mother of twin girls. My husband is a flooring contractor and I work as a lecturer at a major university.
To give you some more background information, be sure to check out my debt story, and what lead me to start my debt-reduction mission.
When I started blogging here in February 2014, I had nearly $150,000 in debt!!!
Within 3 months of beginning to blog, I paid off over $10,000 in credit card debt. In total, I paid off just over $25,000 of debt in 2014, just over $26,000 of debt in 2015, and over $30,000 of debt in 2016!!!
Sometimes I have struggled with finding balance, and not everyone has agreed with all of my choices, but I'm thrilled with the progress I've made so far, while also learning to balance family time and having a life outside of debt repayment.
Be sure to check out other important posts:
Starting the Debt-Reduction Mission
Debt Repayment 6-month Reflections
(FINALLY) Hitting the Half-Way Point in our Debt-Reduction Journey
3.5 Years Into Debt Repayment: Reflections & Looking Ahead
Matt
Hi and welcome to Blogging Away Debt! I'm Matt, a 28-year-old, single mechanical engineer with a live-in girlfriend, a couple of dogs, and a whole lot of debt. Just how much debt? $124,007.66 to be exact.
I graduated college in 2009 with over $110,000 in student loan debt alone and a car debt I didn't need. So how far have I come in nearly 6 years? With only $55,000 left to pay off the student loan, I've paid off nearly $70,000 in debt!
With a goal of being debt-free by November of 2016, I'll share my journey, every step of the way, as you cheer me on or chide me for bad financial decisions. Either way, I hope you enjoy reading!
*update: Matt announced that he would step down from blogging in December 2015. We wish him the best in his ongoing journey to debt freedom!
Adam and Emily

Adam and Emily were the fourth (as a couple) bloggers for Blogging Away Debt. They took over for Claire who decided in late June 2013 that she would no longer blog about her debt. They started blogging about their debt in July 2013 but left in February 2014 to focus more on work and less on blogging. Their debt-reduction journey continues and they chime in from time to time in the comments and with occasional debt updates. See their latest (effectively debt-free) post here.
Hi! I'm Emily.
I run a small furniture refinishing business, which takes a lot of my time and energy, but is one of the most rewarding things I've ever done. I love seeing my clients put a piece of my work in their homes. Because it's refinished by hand, it feels like art, and it feels so good to help them achieve the look they desire for their home.
Hello! I'm Adam.
In 3 years, we've made great progress on our debt, but we have a long way to go!  I grew up in a small town in Indiana.  I have always been a bit of a techie nerd but thankfully I came out of the basement every now and then.  I love our life in Austin, with all the culture, the shows, the music, the food, and the fun!  I work at a tech company like so many people in Austin, and in our free time, we are starting to do some homesteading.  It's a constant struggle for us to stay on track with our debt payoff plan, but if all goes well, we will make our last payment on my 35th birthday in July 2017!  Wish us luck!
Claire

Claire was the 3rd blogger for Blogging Away Debt. She took over for Beks in March 2012 and continued to blog about her debt until June 2013 when she decided that she needed to bid farewell before all her debt had been paid off — she was the first blogger in this series who failed to blog her debt away
I was born and raised in Texas. I've at least driven through every state — except Washington and Oregon — in the US courtesy of a road trip loving Dad.
I am a "life is just half full of funny" kinda gal. Humor is my saving grace and I am thankful for it every single day. I have a strong Catholic faith and am thankful for that foundation.
I love being a mom, but also love my career. I'm blessed to have found a balance allowing me to be at everything my kids need and want me to be at — while also having a career.
Favorite Quotes: Well-behaved women rarely make history. Behold the turtle. He makes progress only when he sticks his neck out. -James Bryant Conant
Beks

Beks was the second blogger for Blogging Away Debt. She took over this blog in May 2009 after Tricia (see below) paid off her credit card debt.
Here is a little bit more about her:
Name: Beks
Gender: Female
Industry: Government
Occupation: Paper Pusher
Location: San Diego: CA : United States
Do you believe that forks are evolved from spoons?
Of course, how else do you explain the existence of sporks at Wendy's??!?!
Favorite Movies
* Rebecca
* Around the World in 80 Days
* Don't Eat the Daisies
* Better Off Dead
* Ferris Bueller's Day Off
Favorite Music
* Kenney Chesney
* Rascal Flatts
* Taylor Swift
* Janet Jackson
* Jack Johnson
* Leona Lewis
* Sarah Bareilles
Tricia
Tricia was the original blogger who created Blogging Away Debt. She was able to pay off all her credit card debt in April 2009 at which time she passed the blog onto Beks. 
Thanks for stopping by! My name is Tricia and my husband and I got into a little bit of debt in our 20s. Okay…it's more than a little bit of debt. When we finally decided to shape up our financial life in February of 2006, our credit card debt was over $37,000. I know, I know…how can someone let their debt get that high?
Part of it was due to attempting to start our own business. It didn't work out, but we spent the money on expensive equipment that we needed. Then, the rest of our debt accumulated throughout the years. Trust me when I say this, spending more than you earn is a recipe for financial disaster. Years of spending more than we earned is why we ended up in a pretty bad situation.
In February of 2006, I decided that things needed to change. We were close to being maxed out on our credit cards and with a young son, this wasn't the life we wanted to lead. Worrying about being able to pay your bills and being able to afford groceries is not fun. It was also a little depressing that our net worth was a big negative number. We were almost 30 and we should have a positive net worth and be saving for retirement.
Blogging Away Debt was born to help document our financial transformation and keep us on track to pay off our credit card debt by May of 2009.
The road has been rocky and sometimes we kick some debt booty and I feel like I am on top of the world. Other times we suffer a financial blow and wonder if we will ever be debt-free. That's the thing about debt reduction. Unless you come across a windfall of money, it is a roller coaster journey and you are bound to hit bumps in the road. What matters is how you choose to deal with those bumps in the road. When you fall, you get right back up.
Here are some important annual recap posts:
A Reflective Look Back at 2006 – Goodbye to $13,000 of our Debt
A Look Back at 2007 – $7,400 More of Our Debt Paid Off
I also have a recap of my frugal posts of 2006:
Thanks again for stopping by! I hope you enjoy your stay 🙂
Disclosure of Material Connection: Some of the links in the articles are "affiliate links." This means if you click on the link and purchase the item, I will receive an affiliate commission. Regardless, I only recommend products or services I use personally and believe will add value to my readers. I am disclosing this in accordance with the Federal Trade Commission's 16 CFR, Part 255: "Guides Concerning the Use of Endorsements and Testimonials in Advertising."