by Ashley
It's such a happy day for me today, friends!
After many months of slowly chipping away at larger debts (last one paid off was in April 2015, but whose counting?) am able to finally announce that I've paid one (albeit small one) off in full!
TODAY, I am cleared of Navient loan 1-06.
The first time I ever broke apart my Navient loans for you was back in March 2015. At that time, loan 1-06 was sitting at $860.80.  For months now (really the whole time I've been blogging), I've only been paying minimums to this account which has only paid the interest (no reduction in principal). I paid a little extra on my unsubsidized federal student loan (which is not even listed in my Pandora's Box spreadsheet – that spreadsheet only accounts for my Department of Education loans).
But then I've been having some SERIOUS drama with Navient. (mini-update:  there is no update. I was contacted by the mediation specialist who gathered some information and said it would likely be a full month before I hear back again. My loan that was transferred from ACS is still incorrectly classified as an unsubsidized loan and continues to accumulate interest when, due to my IBR status, the interest should be forgiven).
ANYWHO…..all the drama and frustration with Navient just makes me want them out of my life that much sooner! So I decided to also start chipping away at loan 1-06, as its my smallest loan (even though it is also a subsidized loan; I felt the small balance made it a good candidate to knock out quickly). So over the past few months I've put an extra $100 here and there toward it. Nothing huge. But then this month I logged into my account and saw the balance due was less than $500. And I just decided – I need this. Let's go for it!
I talked to hubs (this required re-allocating some of our money a little bit differently than what we'd originally planned), and he was on board so I made the call and paid off the loan in full.
Logging in today I am THRILLED to see that big "No Payment Due" next to loan 1-06.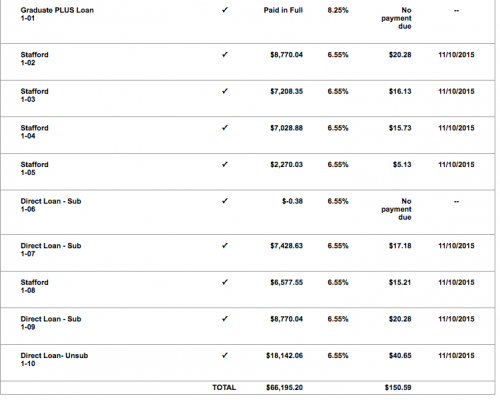 I cannot wait until they all read that way!
Just as a reminder, I'm seriously on a mission now to pay off our car. It's our last remaining consumer debt and my goal had been to have it paid in full by December. In this previous post I admitted defeat on that goal and settled for having it paid as early in 2016 as possible. Well, friends, I take that back again. It's going to be tough. TOUGH! And we're planning to travel in December, which makes it twice as tough (since hubs isn't salaried he only gets paid when he works, plus we'll be incurring travel costs, etc.). But I'm on a mission. It's like back when I first started blogging and I was hell-bent on paying off my credit cards. I managed to pay off over $10,000 in credit card debt in three months! I still can't believe that was me! It's not like we were rolling in dough and had nothing better to do with it. That came about from a lot of hard work, careful budgeting, sacrifice, extra hours, etc. etc. etc. I'm on the same mission now. We have about $10,000 left on the car. 3 months worth of debt payments between now and the end of the year. Is it likely? Probably not. Is it possible? Maybe. Just maybe. I plan to give it a hell of a shot. I'll let you know. ; )