by Ashley
Hi friends! Just wanted to poke in and say hello! I'm still in doctors' appointments, so I've pre-scheduled this post for you guys. I'll be back "live" on Thursday! Have a good week!
Hey, remember when I used to give random money saving tricks? Things I'd been doing to try to save a buck? It's been a hot minute!
Here are some old ones:
Which brings us to today's money saving trick….
Using a makeup brush to reach the very last of the concealer!
I've always been pretty low-key when it comes to makeup. I rarely step inside an Ulta or high-end makeup place. Never buy from department stores, etc. I'm a drug-store or grocery store makeup girl. So I'm already saving a lot simply by buying cheaper brands. But I HATE when the concealer is too low to use anymore, but you can still SEE so much left in the tube! Which got me thinking….why not just use a makeup brush to fish out the insides of the concealer tube???
And lo and behold, that's what I've been doing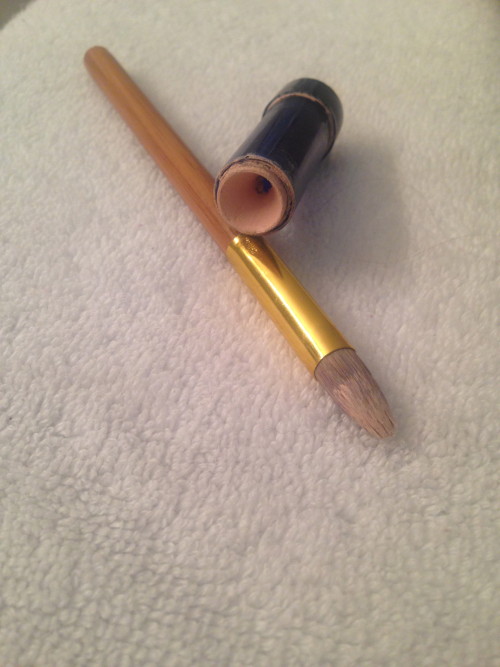 Years ago I'd read a tip (I think in Cosmopolitan…maybe Seventeen. I was in high school at the time so we're talking over a decade ago), that you can scoop out the leftovers of tubes like this (concealer, lipstick, etc.) and store in a pill box. I'd tried the tip out, but wasn't thrilled with the results. I felt like the makeup got all dried out and crusty in the pill box. Not sure why; it's not as though the regular makeup container is air-tight or anything so I don't know why it stores better in the actual container (as opposed to a pill box container), but just a heads up that following that tip didn't work out for me.
However, using the makeup brush has worked like an absolute champ! I used a brush I already had and never used. I put the tip of the brush directly inside the tube and then apply under my eyes (or wherever you need concealer). Easy peasy and saves me lots of money. I cannot believe how much makeup is still left in the tube when it's too low to use in a conventional manner anymore. I mean, after this concealer was "gone" (meaning, when the old me would have thrown it away because it was too low to use anymore), I've still been using it for another 3 weeks. And there's still a ton in there! I bet it will last me another 3 weeks, too!
Do you have any great moneysaving tips you've used lately?
Side note: Are you joining me with my summer book club?  This month we're reading Dave Ramsey's, The Complete Guide to Money. I'll post my thoughts at the end of the month, so it's not too late to join!