Happy Halloween! Here's a (dark) pic of the girls from over the weekend at a trunk-or-treat: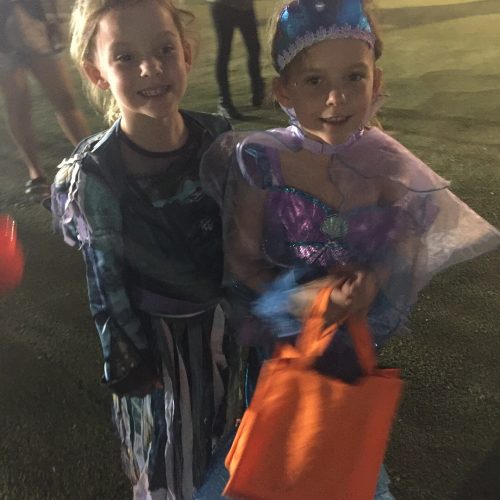 The kids will be sure to have a fun day at school today – its dress-up day so they get to wear their costumes. We bought them from Costco for I think $16 each. Pretty decent considering how many accessories they come with. I love Costco!
They have a little costume parade in the morning at school that I'm going to attend, and then they'll have parties in both classes. This evening, we'll do a little trick-or-treating around our new neighborhood and call it a night early. With Halloween being mid-week, they really did the majority of their celebrating this past weekend (we had their school Fall Festival on Friday, and TWO trunk-or-treats: one on Saturday and one on Sunday. ALL of these events were 100% free admission. I did buy $10 worth of tickets at the Fall Festival so the girls could play carnival games, but that was the only money spent!). I'm most looking forward to the fact that there's NO HOMEWORK tonight in light of the holiday (I have to lol over the other parents' comments on this post where I mentioned the volume of homework my first-graders have!! I'm glad other parents agree the homework is a bit much!).
Also…have I mentioned I'm doing another Ragnar race? I did one last year and can't recall whether I've specifically written about it this year or not. I've been training for the past 3 months and the race is finally this week (Friday-Saturday). Wish me luck, as I feel pretty under-prepared. I'm a good 10 lbs. heavier than I was for last year's race (separation-related stress-eating?? I really need to get this in check), plus I was knocked out for a solid week in the intense part of training due to kidney stones. I'll finish, but it ain't gonna be fast and it ain't gonna be pretty. For those curious, Ragnar is a running relay race done with a team. We will each run 15 miles (split into 3 segments) over the course of a 24-hour period. Send all your good luck/racing vibes my way!
For those who celebrate, have a Happy Halloween!