Back in December I was planning out gifts for everyone and one of Hope's posts made me realize I had neglected taking into consideration teacher gifts! I rectified the situation by going a super low-cost route. I ended up giving each teacher (we have 3:  a lead teacher and 2 teacher's helpers) a holiday card from our family, a $5 gift card to Starbucks, a personal note, and a hand-colored picture made by the girls (I wrote about it here). I got some flack from some of the readers about cheaping out on holiday gifts, particularly since I ended up getting all three of the $5 gift cards for free (paid for by a random stranger doing the "pay if forward" thing in the Starbucks line). Also, right around the same time, a classroom Wish List appeared on our girls' classroom door.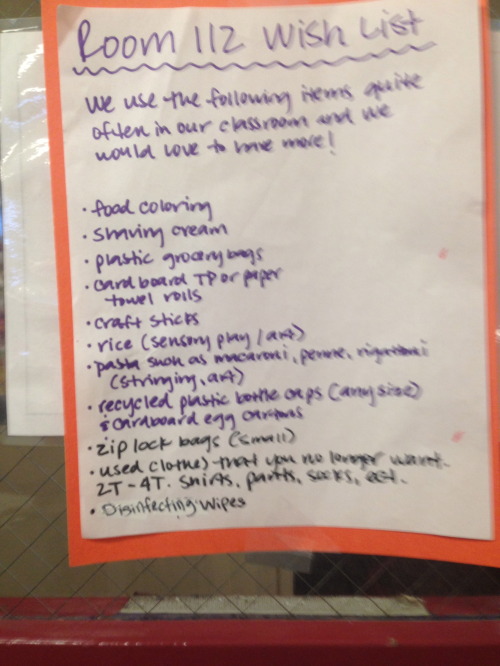 Sorry so blurry! I felt like a weirdo taking a picture of the list so I did it in a hurry. Really I was just trying to take a picture so I could easily reference the Wish List instead of having to remember items off the top of my head.
Back in December I really didn't have the extra money to get any of the class wish list items, nor did I in January. But, gosh darn it, I was determined to get together a nice little basket of things for the class in February. Plus, I stopped focusing on all the things I thought I "couldn't afford" or couldn't get to fit within our weekly budget, and started focusing on the normal things we've already got around our house that I could donate. After several weeks of collecting items and a single trip to the Dollar Store where I spent a total of $5 out-of-pocket, I have finally pulled together what I consider to be a pretty decent little gift basket.
Behold…the $5 Classroom Gift Basket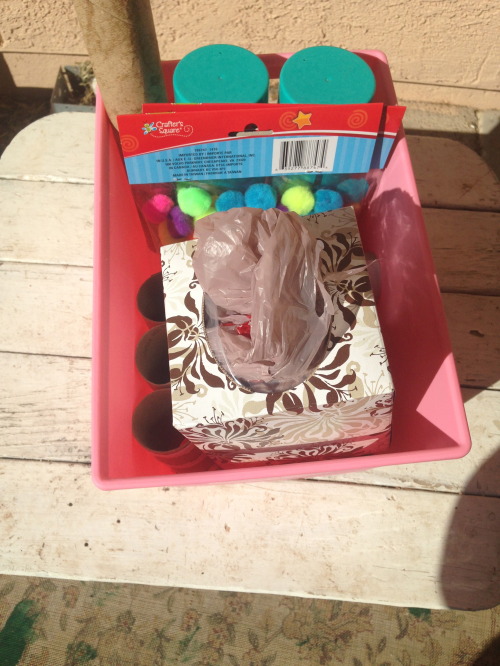 Contents include:
2 bottles of shaving cream ($1 each, from Dollar Tree)
2 packages of colored pom poms, 80 count ($1 each, from Dollar Tree)
8 cardboard toilet paper rolls
1 cardboard paper towel roll
1 cardboard egg carton (not pictured above, I added later)
1 empty tissue box stuffed full of plastic grocery bags
1 cutesy and reusable basket ($1, from Dollar Tree)
I know its nothing extravagant or crazy. I literally only spent a total of $5 on it all together ($1 for basket, $2 for shaving cream, $2 for colored pom poms). But I know that all these materials will be used to create cute and fun craft projects that will help enrich my girls' days while at preschool. And I also think it's not always the amount of money that is spent, it's the thought and effort that goes into the gift. I've literally been hoarding old toilet paper rolls for 2 months now to amass these 8 rolls! We rarely use paper towels anymore (instead I use old baby burpcloths or washcloths), but I still use them for occasional cleaning so I was able to get together a single paper towel roll. The point is, I've actually put some thought and effort into getting these things together. It's not a big deal to simply save an old toilet paper roll, but you have to consciously think about it instead of mindlessly tossing it in the trash. And I think I get some points on the presentation of it all in a cute (but cheap) dollar store basket, instead of simply throwing it all in a grocery bag or something (not that anything is wrong with that and I'm sure they'd still appreciate the donation, but I made an effort to make it look nice).
So I'm proud of my little classroom gift basket!
The preschool is pushing for pre-enrollment for the 2015-2016 year, now. I've been putting it off for now (I want to wait so I know if I'll have a full time job or not, since that would obviously impact our enrollment), but I know that we love the preschool we're at! The teachers are fabulous, the staff is friendly and accommodating, and there's so much community involvement (e.g., live musicians perform on Fridays, there's an art gallery that rotates monthly, different outreach activities, etc.). I just love it and I want the teachers to know that I appreciate their hard work. I know it's a tuition-based preschool (not a free public school), but I still know that teachers often buy extra supplies out of pocket and it makes me feel good to be able to contribute in some small way, and barely spend any money in the process!
Here's the final product (with egg carton now also shoved into the overflowing basket; toilet paper rolls are now hidden beneath the tissue box & pom poms). Not too shabby, if I do say so myself! ; )
Psst: Did you miss my kid's Valentine's Day craft? May be too late to mail (though better late than never), but if you've got family in town it's not too late to still be done in time for the holiday! If you haven't yet, check it out here.