I swear this will be the LAST post I write about teacher gifts (well….at least for this year, lol).
I just wanted to show you the final product of what I gave to our kids' teachers this year for Christmas (or Hanukkah, being as our girls go to the Jewish Community Center for preschool).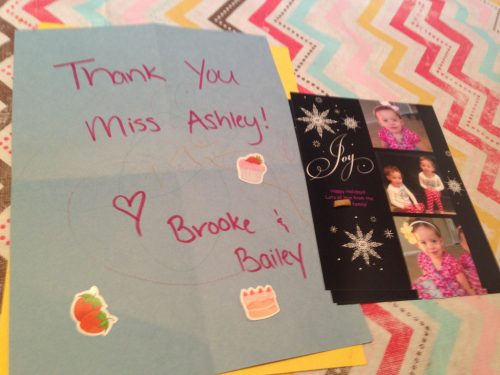 Each teacher received 3 things:
1. A "card" (i.e., construction paper) that said "Thank you Miss [Teacher]! Love Brooke and Bailey", which the girls colored and decorated with stickers. cost = $0 (all of these supplies were things we had on-hand)
2. A Happy Holiday card from our family. cost = $0 (I hadn't originally intended to give these to the teachers, but they were extras I had leftover)
3. A $5 Starbucks gift card. cost = $0 (remember, a stranger kindly paid for these)
On the back of the holiday card I wrote a nice, heartfelt message to each individual teacher pointing out things that I was thankful for about them specifically (not just a generic "thanks"). An example is that when I drop off the girls they'll often run up to a certain teacher and grab her hand; I mentioned that this really lets me know that my girls are being well cared for and makes me feel good about sending them there for preschool.
Total cost for teacher gifts = $0
For the record, I still plan to gift the classroom with some of the wish list items that I'd mentioned here, but I'm going to wait until the new year. I won't be going crazy or anything, but I can buy several of the items for only $5 or $10 and it will make me feel good to contribute to the classroom. Gift-giving is still a bit hard for me (in terms of the whole getting-out-of-debt mission). I find myself wanting to be more generous than my budget will typically allow. But I try to find that balance and paying a few bucks for some art/craft supplies that my kiddos will be using at school won't put me over budget (at least I hope not!!! knock on wood!!)
What do you think about being generous with others while in debt? 
Ideas I've had include:  Volunteering time instead of donating money (I've done this at the girls' preschool this year, too), donating things we already own and no longer need (instead of spending money buying new things, I've donated some gently used baby toys and gently used clothes at a toy drive and clothing drive, respectively); and finally, I donated money to a charitable organization that acts as a tax credit (not deduction), discussed more here. This way it's not like spending extra money…it's like being able to choose where my tax money goes (since otherwise I would have had to pay the money toward taxes anyway).