by Beks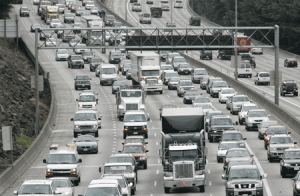 Last month, my husband had a serious talk with me about my public transit use. As a frequent user of public transit, I follow a very strict set of rules when travelling. I don't talk to others, I don't carry or wear anything expensive, and I avoid eye contact with everyone except the driver. This system has worked well for me for years and I can honestly say I have enjoyed zoning out for two hours each day. Unfortunately, things have changed. A new, unwelcome group of riders have started travelling my route. I wrote about a problem a few months ago where I had to call transit security but… there have been more problems since. Some not as bad – some worse.
I like to think that, for the most part, I can take care of myself. I'm acutely aware of my surroundings. I carry a cell phone and a can of mace. And I'm a pretty mean fighter thanks to the several years I spent in training after college as a self-confidence booster.
But each passing week, I feel less strong and more vulnerable with the changing crowd.
I thought it was just me but each time I'd share an incident with my husband, I could see he was uncomfortable. One night, he came home from school and said, "You aren't taking public transit anymore." On his ride home, a man had pulled down his pants and started urinating everywhere.
Really? That's what set him over the edge? I didn't have the heart to tell him I've seen men do the same thing multiple times before and… I'm kinda used to it.
I put up a half hearted fight about how driving was expensive and how driving a vehicle on a Southern California freeway was just as dangerous as riding public transit but he said, "I'd rather have you die in a fiery car wreck than from a stab wound!"
How romantic?
So, I drive to work now. My husband may be breathing easier but thanks to my car emissions – the environment, my wallet, and future generations won't be. Forgive me.
I'd like to think I'll go back to my love affair with public transit…
But I guess we'll have to see.