by Sara S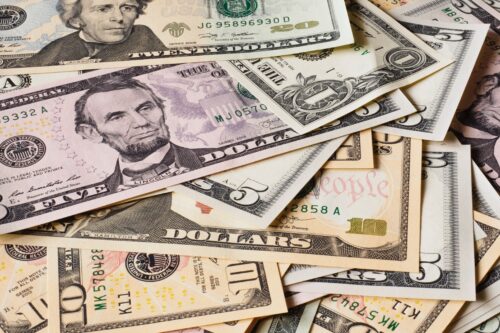 Do any of you have experience with a high interest or high-yield savings account (HYSA)? This wasn't even on my radar until a few months ago. I had never heard of them, and I didn't know just how much more interest you could earn with them than a normal savings account.
We've had a big lump of money in our savings from our tax return plus our emergency funds. We don't want to touch it just in case we have to unexpectedly shut down our business again due to COVID. So we need the money available and accessible, but I hate to just have it sitting in our normal savings account. After all, our regular savings account just has a teeny tiny 0.05% APY (Annual Percentage Yield).
Why Choose a High-Yield Savings Account?
So we decided to use a HYSA. They're online banks that tend to have less overhead, so they have much higher APY than a normal brick-and-mortar bank. I liked the idea of getting a higher APY, but I didn't love the idea of sending off our precious savings to some website I'd never heard of before.
But here's what I've learned about high-yield savings accounts:
They're federally insured (up to $250,000 per depositor by the Federal Deposit Insurance Corporation or the National Credit Union Administration)
They have zero or very low monthly fees
Their APYs are consistently higher than other savings accounts
Since the pandemic, most online banks have cut their rates big time in response to the Federal Reserve's emergency rate cuts. But there's hope they'll return to 1.0% or above like usual. In fact, in January of 2020 rates were around 1.75%, and in January of 2019 some were over 2.0%! (See other past rates here.)
Narrowing Down Which HYSA
So now that I felt safe picking a HYSA, I had no idea which one to go with. Our accountant talked about some ideas, and then I looked at lists of the top ones. But what I found is basically no two sources agreed on one perfect account.
So after some research, I decided to go with Ally.com. Someone I trust has liked using them, and I also found Ally has:
Typically good, competitive APYs. Today it's 0.60% no matter your balance.
No monthly maintenance fees
No minimum deposit
Up to 6 transfers/withdrawals a month
A checking account option (which allows faster deposits and withdrawals, and faster access to your money)
I opened the account and we deposited $42,000 (gulp) to it this week. That was a frightening transfer, if I'm being completely honest. But it's safely there now and we look forward to watching it grow. So far I like their website and it's been easy to use, and I hear the same about their app.
The idea is that the interest we slowly earn stays in the account until we see what's up with the pandemic. Then if we don't need it, I vote it goes toward our student loan debt. My husband would prefer to put it towards retirement. But either way, we're looking forward to having a bit of extra money to assign somewhere.
What do you think of HYSA? Do you use them?