by Sara S
Remember how we were considering selling our house and moving closer to our business? Well we had decided to do it this spring. We had originally thought to list our house in March, but during that first week of March we talked it over with our realtor and decided to shoot for the first week of April. The pandemic had no influence on that decision at all.
And now it has allll the influence.
We didn't list it like we'd planned. We're not getting an income and the world is too upside down. We just couldn't wrap our heads around trying to sell in the midst of all this uncertainty and quarantining.
Now we're curious what will happen to the housing market.
It's been hot in our area for years. This crazy month has definitely changed things. I actually just heard from a realtor yesterday that there's good news and bad news: Good news? Interest rates are super low. Bad news? Home sales are down and home prices are really starting to soften.
There's hope that this won't be the long-term trend, but of course nobody can say when this will all end or when things will improve. (COVID-19 is the gift that keeps on giving.)
So I just keep watching and wondering. Will our home's value tank? But will that just mean the homes will be more affordable in the city we want to move to? Should we still sell? Or should we wait until next year?
I feel fortunate that we don't have to move. We felt like it was the right thing to do back in January, but heck—January feels like 10 years ago.
So now what?
We're just trying to be flexible and ready to call an audible. I know things could be a lot worse. I know people are currently experiencing a lot worse.
But I am mourning the loss of planning for the future. I hate not knowing when school will return, when we can open our business, when and if we'll move.
Lately I've been working through the uncertainty by working in the yard. I love to garden. Our yard—like many yards in the Northwest—is at its best right now. The bulbs are blooming, the trees are blossoming, and the grass ain't dead and patchy yet. There's part of me that thought this would be perfect for buyers to see. It would have all the curb appeal HGTV says we need.
But no one on Zillow will see this lush lawn. Nobody will come to an open house and see the tulips in the window box, or the hyacinths and azaleas blooming.
So I'm just going to keep digging. Keep weeding. Keep waiting. I have no idea how much longer we'll be in this home, so I'll just keep focusing on controlling what I can control.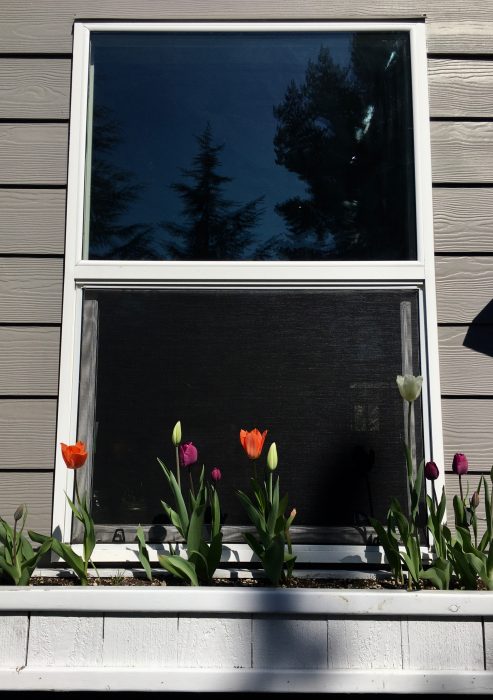 Would you consider selling a house during a pandemic? Have you already seen a change to the housing market in your area since COVID-19?