by Elizabeth S.
Checking on the progress of my net worth by comparing debt to savings today! Here are the raw numbers of my accounts, comparing when I first started blogging here and today:
Debt Reduction
July 2019: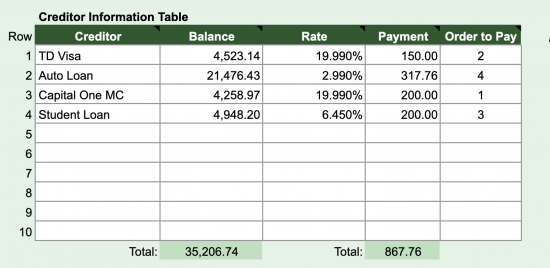 October 2019 (-$1126.51 since July):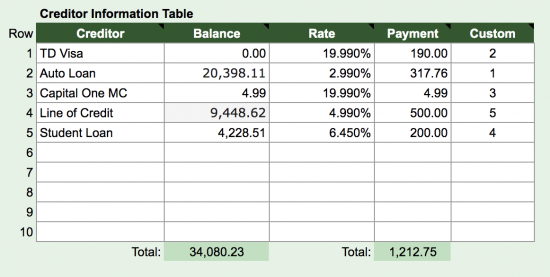 Today (-$1155.60 since October)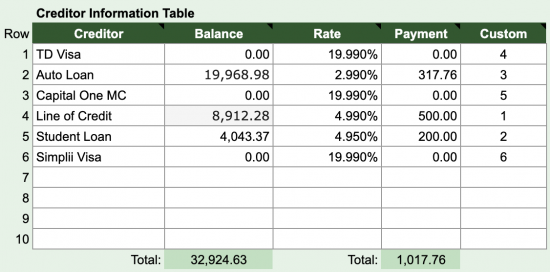 Debt reduction spreadsheet found at Vertex42
Total Debt: $32 924.63
Pretty good! I paid off more debt last month than I did all Summer.
Investments/Savings:
Savings account: $1501
Savings plummeted partially due to the passing of Billy in addition to a yearly charitable contribution that I make (which I will get a tax receipt for). I want to top it up to $2000 again on this Friday's pay.
Investment account: $514.65
This is a fun account I throw money in when I have some extra kicking around. I intend to use it for any taxes I may owe from freelance work, or towards vacation spending money. I didn't add any money to it this month, but I've been getting 5-8% returns (currently 7%) so I might add some more in December if I miraculously have any extra money around the holidays (doubtful).
Registered Retirement Savings Plan: $14443.28 (+$793.58)
This is the Canadian equivalent of the 401K. My employer matches up to 3%, which isn't much, but it's free money so I make sure to take advantage of the full matching amount. I kicked in an extra $200 this month before I knew about Billy being sick. 
Total savings: 16458.93
This is actually a decline from last month. The withdrawals from my savings hit pretty big here.
Net worth (based on Total Savings – Total Debt):
-$16465.7 (an increase of $1107.92)
Overall, I think I am on the right track. If my savings hadn't taken such a hit, this would have been a great month.
Thoughts on November
November was an uncommonly tough month for me personally. My family moved far away, my cat died, and I was really sick for a good chunk of the month. In the past, I would have turned to retail therapy more than once, but I managed to avoid that entirely. I relied on good friends. Two of my friends met me at the vet and one drove my car home for me. They spent some time with me that night. Mike took care of me when I was sick, and also took last Tuesday off work with me to dig a grave and find a tree to remember Billy by. Good friends are the best thing in my life right now.
Despite feeling very run down last weekend, some friends convinced me to head out for an 80s dance party at a dive-y bar on Saturday the 30th. For the first time ever for a big "night out", I spent less than $40. That includes an Uber home. I bought one round, let the rounds come back to me, and didn't drink much. It was great! A lesson in moderation. I left the house with $60 cash and came home with $25. I had some Uber credits which helped.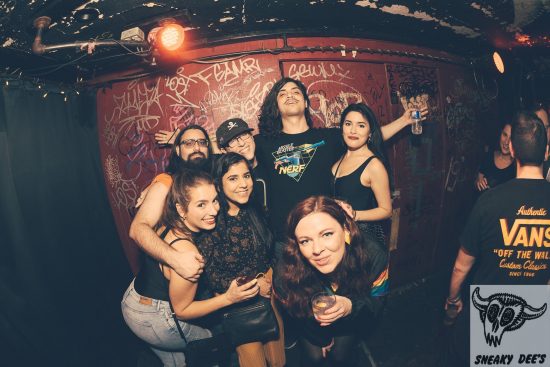 Things might be finally turning around. Christmas is my favorite time of year (I'll need to show you my tree soon!). I signed up at the gym again and want to get the morning meditation and workout routine established this week. I'll let you know how it goes.
Financially, I want to hold the course for December. It's hard not to go off the rails this month. My two goals are:
Don't add debt
Don't dip further into savings
I would still like to make an extra contribution to my line of credit but I'm giving myself some grace for the holiday month.
I hope your Tuesday is nice. I'm looking out my office window over Lake Ontario watching ferries going back and forth under a beautiful pink sky. It's going to be a good day.
Elizabeth is a single woman in her early 30s, working as a manager at a software company and living in the most expensive city in Canada. She hopes to blog about her journey to eliminate debt and build savings for home ownership someday. Whenever she has taken two financial steps forward, she's always taken a step back with a bad credit card purchase (we're looking at you, unnecessary iPhone of May 2019). Elizabeth lives alone with her fur kids, a dog and cat, and when she's not in front of the computer, she enjoys running, camping, reading, and baseball.