by Elizabeth S.
Checking on the progress of my net worth by comparing debt to savings today! Here are the raw numbers of my accounts, comparing when I first started blogging here and today:
Debt Reduction
July 2019: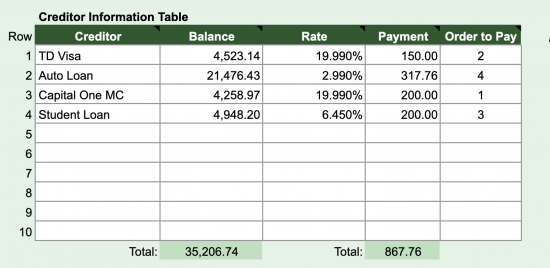 September 2019: (-$731.37)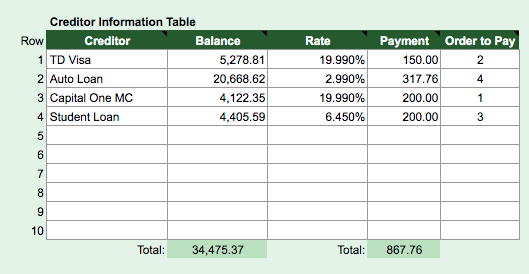 October 2019: (-$395.14)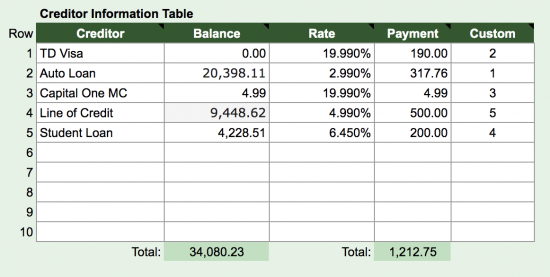 Debt reduction spreadsheet found at Vertex42
Not so great for debt reduction at all this month. I did end up buying winter boots, a pair of black dress shoes for work, and a therapy session that won't be covered by my benefits. This is eye opening for me, though. I plan on paying an absolute minimum of $600 a month to the line of credit now that I have some savings and my credit cards are consolidated.
Savings:
Savings account: $2350 (+$350)
I want to keep saving but I need to put a pause on this now and focus on debt reduction. I feel so conflicted about this, because I have been watching my financial stress dissipate as savings have grown.
Investment account: $506.91 (+$127.91)
This is a fun little investment account I have set up with Weathsimple.com. I'm using it because it's easy to withdraw from and I'm planning on using this money if I owe for my taxes next year. I throw odd job money in here.
Registered Retirement Savings Plan: $13649.70 (+$382.87)
This is the Canadian equivalent of the 401K. My employer matches up to 3%, which isn't much, but it's free money so I make sure to take advantage of the full matching amount.
Total savings: $16 506.61(+$860.78). Frankly, this isn't enough. I need to be saving way more for retirement.
Net worth (based on total savings – total debt):
$-17 573.62 (increase of $1255.42)
The line of credit payment comes out on the 15th and I'm planning on making a large lump sum payment each month. I want to pay a minimum of $600 a month to that, and increase my payroll deductions to my RRSP.
Yep. I need to spend less money.
Little Victories: 
applied for a no-fee credit card and no-fee checking account through Simplii (goal to close my expensive accounts by end of November)
My credit score became Excellent, but I don't think that will last
I have a Rover gig in two weeks!