by Hope
Five years ago, we began Guys' Nights with the twins. They invited all their guy friends over for the night once a quarter. And they stayed up all night playing video games, eating junk food and having a good time. The last one took place during their junior year of high school while we were living in the apartment.
It began due to the restrictions of being foster kids. But it continued because it was a great way for me to get to know their friends and know that they were having good, clean fun. It was a cheap way to give the twins' a positive social life. And those Guys' Nights were epic.
Now we find ourselves in a similar situation.
New Friends, New Town = Girls' Night
Princess has really begun to come out of her shell, making friends, the whole teenage girl thing. But in a small town, most everyone here grew up together. They are all related or feel like they are related. We are kind of like ducks out of water. And I'm still the same over-protective parent.
We hosted our first Girls' Night this weekend. Five girls, five face masks ($1.37/each,) one giant tub of cookie dough from Sams Club ($8.95) and a couple of pizzas ($7.99/each.) It was a blast. And let me tell you, a girls all-nighter is very different than a guys!
The total cost for the night was minimal. The fun was priceless!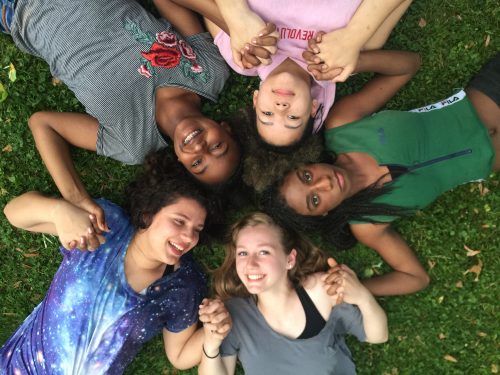 Challenge Issued
And after they had baked cookies, taken dozens of pictures and written a play…I issued my Summer Challenge. The girls jumped at it! Immediately talking about their skills and what they could produce.
Several of them asked me to speak with their parents about it. I'm so excited. This gives me more motivation to keep building my training modules for a young entrepreneur's program.
Princess has been given the liberty to have her friends over every Saturday when Gymnast spends the night. I am still working on how I will manage our summer schedule.