by Ashley
For those who celebrate, I hope you had a great Easter yesterday! It was the first year that the girls really got it on their own. In the past, we've held hands and more-or-less led them to eggs, coaxing them to pick them up and place in their baskets, etc. Not this year. We went to our neighborhood's egg hunt and as soon as they gave the command, the girls RAN to get eggs. It brought me so much joy to watch their excitement, but it also made picture-taking a bit challenging since I could only get shots of their backs as they RAN away to find more eggs. : )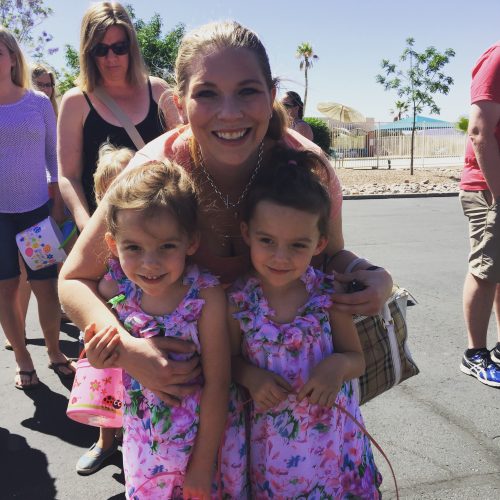 This was our "before" shot. Excuse my wild hair fly-aways! It hit 90 degrees that day so I had to throw my hair into an unplanned pony – it was too hot to keep down!!!
I know I'm late this year, but I wanted to share one of the Easter crafts we made that we sent to family. We have a long history of mailing kid crafts in lieu of "real" gifts for many different holidays (e.g., Mother's Day, Valentine's Day, Easter, etc. – see my Year-in-Review posts for links to various crafts: 2015 and 2016). This year was no different. Here's one of the crafts we made to send out to loved ones: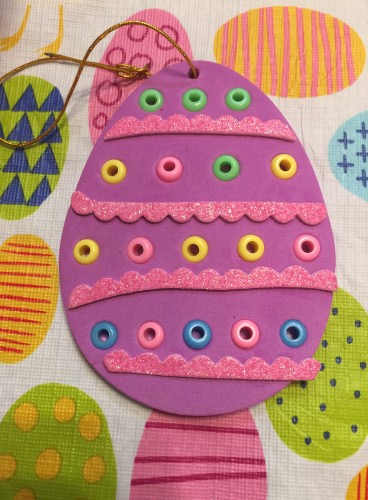 We got some kid's crafts from Michael's for 50% off (I LOVE that they do sales PRIOR to the holiday and not just as a clearance after the holiday has passed). There was one day during Spring Break that we'd gone in and just happened to be there during a kid craft hour. The girls were able to make two crafts (one was a painting on actual canvas, the other was a whole Spring Break scrapbook that was absolutely adorable). The class only cost $2 per child, and killed a solid 2 hours worth of time (= WIN!!) and then I picked up a couple Easter crafts to take home (which was the whole point of our trip). The girls LOVED the crafts (both in-store and the ones we bought to take home), and with the 50% off sale, the crafts only cost $2.50/each (we bought two different craft packages:  the egg pictured above, and a bunny rabbit craft, unpictured – both packages came with enough to make 2).
We mailed the crafts out about a week or so ago and when we made the rounds of phone calls to family to wish everyone a Happy Easter, the great-grandmas were tickled pink over the little crafts they'd received. Each boasting about where theirs was hung or displayed. It was pretty sweet.
I hope everyone had a great weekend! Have a great start to your Monday!