by Beks
In the process of spending half our grocery budget on a 'loaf of bread', my husband purchased a plastic dog food storage container. In all fairness, the recent storms and moisture have molded the dog food and we've had to throw some away. Not realizing the container was too small, my husband dumped the entire bag of dog food into it – a large portion of which landed on the floor. Frustrated, he went back to Target to return the container and purchase a larger size. They didn't have a larger airtight one so he brought home a cheap plastic bin with a lid. Putting his hand to his chin, he stared at it and said, 'It's not air tight. I refuse to lose anymore dog food to bugs or water!'
Today at work, I received an e-mail from my husband with a 'solution' to our problem.
From: Chris
To: Rebekah
Subject: Dog Food Storage
What do you think of something like this for dog food storage?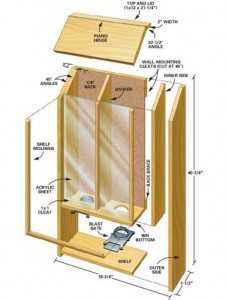 Um. I don't think food containers are even that complicated at the San Diego Zoo. A 'blast gate' on the bottom? Was he planning to build a dog food container or a launch pad for NASA?
I showed my co-worker the sketch from my overachieving Mr. Fix it and she laughed… then offered to give me a dog food bin from her dog who passed away 6 months ago. She wasn't planning on getting a new dog and was throwing the bin away.
In the end, my husband came through, just not in the way we expected. We were able to return cheap bin. Woo Hoo for returns! More grocery money!