by Ashley
Week 3 was our big NO SPEND WEEK for groceries and I'm super pumped to say WE DID IT!
In my Week 2 post I said I'd allow myself $10-15 to get some fresh produce if needed and I'm proud to say I was able to grab some sale fruits/veggies for only $10.18! That leaves us $98 for our last week of groceries. Plus, we still have a freezer full of Dream Dinners meals and plenty in our pantry. This is totally do-able.
Meal Planning
Not like its a big secret, but the reason we were able to stick to our No Spend Week is that we planned all of our meals around foods we already had on-hand.
For example, I found this old can of Cream of Celery Soup in the pantry and noticed the recipe on the back – containing all ingredients we already had! Bingo! This was dinner one night: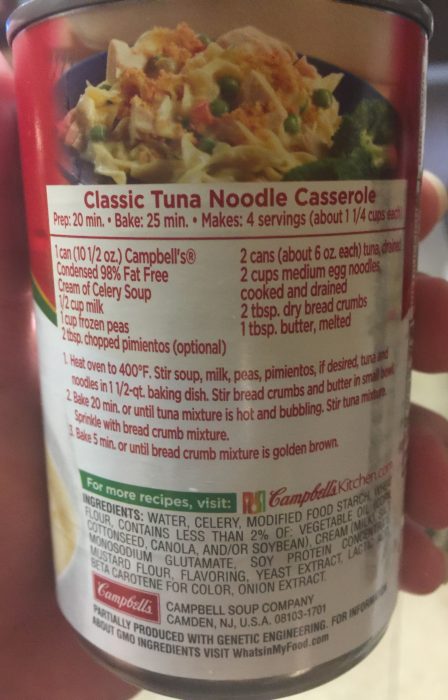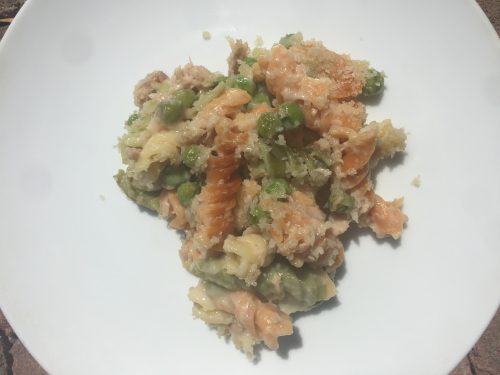 I will say it wasn't the kids' favorite, but everyone got fed and we went on to live another day. I swear, part of this process is retraining my BRAIN with how I think about FOOD. Like, I love food. It is so good. But I have to remind myself that food is FUEL. Not every meal needs to be this gourmet experience. Not every meal needs to tickle the taste buds and excite the senses, you know? This is good practice because I really want to start a diet and exercise program soon. Remember how hubs' is a certified personal trainer? I've been bugging him to put together an at-home workout program for me – at least 4-6 weeks. If/when this happens, I'll be sharing the deets on the blog so it'll be like free personal training for YOU, too! 🙂
Avoiding Budget Busters
There was one thing I was worried would blow our "No Spend Week" this past week. There was a "Camping Under The Stars" town event that we had signed up for months ago. Hubs and I used to be avid campers. We really scaled it back since having kids, but we usually take them once in Fall to camp on our nearby mountain and every spring we look forward to this specific town camping event. But typically, our camping trips include TONS of money for planning and prep and FOOD. We already own all the camping supplies (tents, sleeping bags, grill, lanterns, etc.), but we stock up on snacks and carefully plan out meals, etc. Then go to the grocery store and stock all up. I swear, it can be $100 just for 2 days worth of food! (Note – we were only camping on Saturday night, so we only needed food for Saturday dinner and Sunday breakfast plus camping snacks).
I knew I wanted to avoid all the over-spending this time around so I took my own advice and shopped our fridge/freezer to see what I could do differently. Instead of hot dogs or hamburgers (which would've requiring the purchasing of food since we don't have hot dogs and we don't have any buns, etc.), I decided on a recipe I found online for bacon and chicken-wrapped asparagus!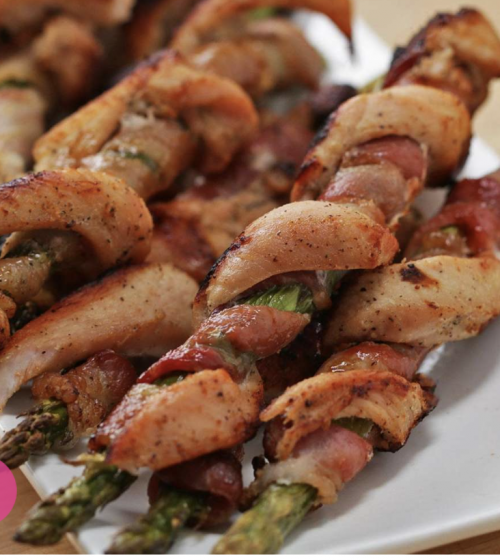 We already had some week-old asparagus that really NEEDED to be eaten. We already had week+ old bacon that NEEDED to be eaten. And we already had chicken breasts in the freezer that just needed to be thawed out. Bam!
Before leaving for the camping trip, I prepped all the chicken/bacon/asparagus food and put into foil packets so they would be easy to cook on the grill. With the chicken cut into thin strips, they didn't take long to cook and although the asparagus ended up a little over-done in my case, they weren't inedible or anything. It all worked out well and tasted GREAT! Way better than a boring old hot dog!
I did buy a bag of jet-puffed marshmallows (which happened to be on clearance for only 98 cents!! Great deal!) – that was part of the $10 I spent. But, instead of doing full s'mores (which also would've required graham crackers and chocolate bars), we stuck to just marshmallows. It's everyone's favorite part anyway. Typically, I'm the only one who even really eats the s'mores. Hubs and the girls just like the roasted marshmallows solo.
We also took snack-foods we already had in our pantry. Some granola bars, a bag of chips to share, and box of cheddar bunnies.
For breakfast, I decided to do something I'd already had in my freezer – breakfast burritos!! I don't make breakfast burritos often, but when I do I always make extra to freeze. Typically, the plan is to pull them out and microwave for a couple minutes on busy school mornings. But I thought this was a great opportunity to eat them up – they were in a frozen state but would have all Saturday to thaw out in our ice chest, and then we'd just throw them on the grill (also in foil) to warm through on Sunday morning. It worked like a charm and the whole family gobbled them down! Best part was they required zero prep and zero dollars!
Week 4 Ahead
Heading into Week 4 with $98 remaining of our grocery budget I feel hopeful and excited. I'm going out of town a couple days this week for a conference up in Phoenix (all meals are included and the conference and hotel costs were paid by my department so $0 out-of-pocket for me aside from gasoline to drive there). Often, when I'm traveling hubs' ends up eating out with the girls. He's a great griller (which is awesome when we're in grill-season like now), but he's not the best kitchen cook. BUT, I've found that Dream Dinners really helps with that because he can quickly and easily throw something in the oven or on the stove top when it's simple and requires no prep or fancy kitchen techniques, gadgets, etc. I'll have him pick a couple of his favorite Dream Dinners from the freezer before I leave so he has them in the fridge ready-to-go. Speaking of Dream Dinners – I did not sign up for the month of May so that I could try to save that money. But I'm a little nervous because I've found that we've become somewhat reliant on them. They're just so easy and require zero thought whatsoever. So I'm considering doing an at-home version myself. Like a month of freezer meals one Sunday or something? I know I could do it for cheaper than at Dream Dinners.
Anyone have good tips or recommendations for making a month of freezer meals? Any great websites, freezer-friendly recipes, etc?