by Matt
I hope everyone is having a fantastic week thus far!
I want to start doing a "month in review" here on BAD to clue everyone in on what's occurred during the previous month. I think this will help summarize what's going on in my life as we move forward on my debt reduction journey and allow people to quickly get up to speed that didn't catch my weekly updates.
To summarize, A LOT occurred in April:
For those interested in where my budget shook out: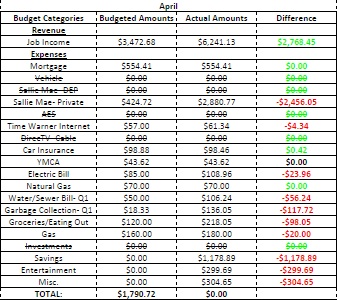 I had some major expenses this month: 1) a tax bill close to $200. Since my I didn't pay enough taxes last year to match my income (which was greatly increased due to pulling out my retirement fund), I owe the state of PA estimated quarterly taxes this year. 2) Our get-away cost nearly $400 in total 3) I spent more for groceries and dinner than I normally do. After my post to kick-off the month, I'm not too upset about this.
In debt reduction notes:
I reduced it by OVER $2,500!!
Pretty exciting stuff.
However, all good news aside, I had thoughts last week of stopping my debt reduction pay down altogether (obviously I'd still pay the minimums), which would have also meant writing for BAD, too. As I was sitting my car thinking about everything, I couldn't help but wonder if instead of throwing every extra cent at debt, if I threw every extra cent into my savings. It would build quickly, giving me a large enough windfall to get through any obstacle, and when the balance was big enough, I could use it to pay off all the debt at once, alleviating my stress while giving me comfort that I won't be in debt forever. After talking it over with GF, the feeling came to pass. With savings interest rates so low, it wouldn't make a ton of sense mathematically, but, as I've always said, being in debt is a psychological, as well as, financial burden.
But what do you think? Do you ever get feelings like this? If so, did you suddenly change course, or did you let it pass? Let me know in the comments!
Have a fantastic week!