by Elizabeth S.
This is a quick update because, due to technical difficulties, I only have an iPad to type this on today.  My dad borrowed my laptop a few weeks ago for a project but I haven't had a chance to pick it up again and my work computer is at the Apple Store until tomorrow. I had hoped it would be ready for this morning but alas, it is not. I almost went to the library to type this but realized (as an IT person) that I would be it would be a terrible idea to log into my bank accounts on a shared computer over public Wi-Fi.
A little bit of hopeful news… my best friend Dan (who is in Ottawa completing a Ph.D.) is interviewing at my work. He did a co-op with us a couple years ago. This is good news because if he gets the job, he's going to move into my spare room for SIX HUNDRED DOLLARS A MONTH! I am trying not to get my hopes up, but last I heard, they are leaning towards him for the role. This is going to move quickly and we expect that he would be here before March.
I had a very lean weekend and didn't spend a DOLLAR! It involved homemade bread and eating out of the freezer. I feel silly posting a picture of bread on a finance blog, but I don't have any finance screenshots for you today. Here it is, my perfect loaf: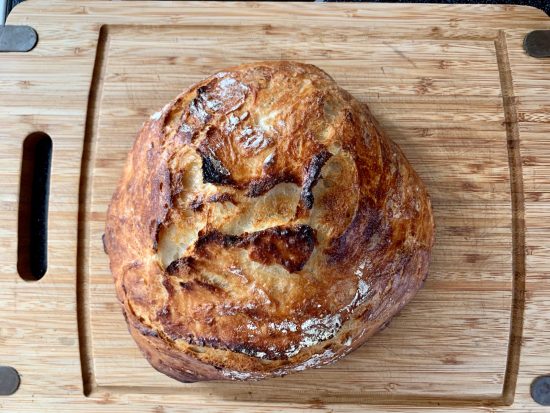 Upcoming Posts
Thursday: My budget update and how my spending tracked for January. I started crunching the numbers and they are bad. I'll break these into categories for you and include screenshots. I'll brace myself for the deserved criticism.
Friday: The state of my finances. I haven't given you all the monthly totals in two months! I'm excited to see what kind of progress I've made.
I'm completely recommitted to strict finances. Life is going pretty well right now and I have so much energy. I want to crush my debt! I want financial security! And I'm going to get it as fast as I can.
Elizabeth is a single woman in her early 30s, working as a manager at a software company and living in the most expensive city in Canada. She hopes to blog about her journey to eliminate debt and build savings for home ownership someday. Whenever she has taken two financial steps forward, she's always taken a step back with a bad credit card purchase (we're looking at you, unnecessary iPhone of May 2019). Elizabeth lives alone with her fur kids, a dog and cat, and when she's not in front of the computer, she enjoys running, camping, reading, and baseball.