by Jenny Smedra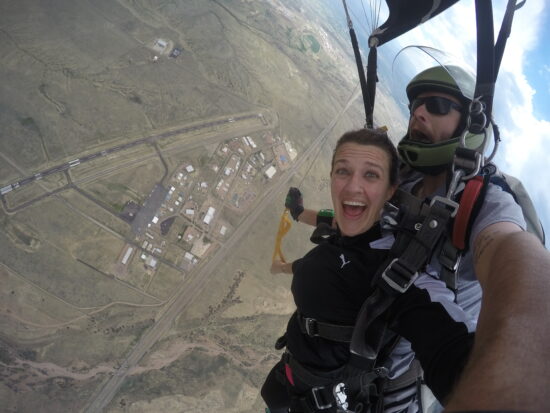 Ever since I was a little girl, I have always been enthralled with the idea of flying. Although disappointed I would never have this superhuman ability, I realized that the closest I could ever come was skydiving. So, for our birthdays this year, my mom and I planned a vacation to finally mark this huge item off our bucket list. Along with a few close friends and other family members, we trekked to Colorado Mountain Skydive for the thrill of a lifetime. But as with all things in life, there were many highs and lows of this family vacation.
The Highs
To give you all some background, I have been dreaming and planning this adventure since I was 18 years old. However, my initial plans so many years ago were rudely interrupted by severe thunderstorms. Time and again, my reservations fell through for one reason or another. However, this year I was determined that it would be different.
After months of preparation, the day finally arrived. Once we reached the facility and completed the safety training, we sat and watched others. For nearly two hours, I sat and contemplated what we were about to do. When they finally called my name to board the plane, my nerves were at full alert. As we took off, I watched the ground disappear below. I felt my stomach drop as the plane continued to rise. Suddenly, I found myself doubting my decision, yet very aware that I was beyond the point of no return.
However, once I looked across the horizon, all fear and anxiety disappeared. The sweeping views of the Rockies literally took my breath away. Although I had seen them from commercial flights before, I felt as if I was seeing the world through new eyes. As we hung our feet out of the plane, I felt incredibly lucky and humbled by my surroundings.
I was still in awe when my instructor told me it was time. Overcome with a sense of strange calm and no hesitation, we leaned forward. Moments later, we were freefalling 8,500 above the ground. While there are not enough words to describe how I felt, the closest I can come is a sense of complete freedom. Although it only lasted a few minutes, I had never felt such peace.
The Lows
Unfortunately, the euphoria I felt was soon replaced by a sense of dread when I came crashing back to reality. The highs were soon overshadowed by the lows of our vacation. We returned to our hotel to discover several problems waiting for us on the ground. During our stay, I had booked two family-style suites with a reputable hotel brand to ensure everyone would be comfortable. My first indication of the troubles ahead was the fact that it took nearly 10 minutes for someone to notice we were waiting at the front desk to check in.
Problems in the Room
We finally got to our rooms, ready for a good night's sleep. Although they looked satisfactory at first glance, we soon discovered several maintenance issues in one suite that made it unusable. By the next morning, we experienced safety hazards in the bathroom including a loose shower rod and safety bar in addition to an unstable toilet that wobbled when you sat down. Furthermore, the shower head was covered in calcium and let little more than a trickle pass through it. But, the icing on the cake was a giant hoop earring on the floor that housekeeping had missed. It made us all to wonder how clean the rooms actually were since it was in plain sight.
After notifying the front desk about the issues, they told us that they would have another room ready for us that afternoon. So, we went to lunch to give them time to handle check-outs and prepare the room. However, when we returned later (well after check-in time), the front desk informed us that the card machine was not functioning. Worse yet, someone would have to escort us to the room to let us in until they could make us cards.
Choosing How to Respond
By now, we were all disappointed with the substandard service and quality of the hotel. The entire ordeal soured what had been a top-ten day. Yet, I refused to let the highs of skydiving be ruined by the continual lows of our vacation created by the accommodations.
Having worked in the hospitality industry, I understood that the staff was doing the best they could under the current conditions. The problems we were experiencing were beyond their control. It made a busy holiday weekend even more stressful since they were understaffed. Instead of venting my frustration to the front desk agent, I asked a manager to contact me when someone was available. The last thing I wanted to do was make a scene or make their job even more difficult. While my concerns were valid, it wasn't fair to hold an innocent bystander accountable for the hotel's failures.
The Lessons Learned from Vacation
When I awoke the next morning, there was an email from the hotel manager. Much to my surprise, she had already anticipated my conversation and taken steps to correct it. Even before we had a chance to speak in person, she offered compensation for our inconvenience. In addition to discounting our first night, she had also given me reward points towards a free stay. While this type of compensation is common in situations such as ours, I believe my patience paid off. In fact, it had saved us a total of $200 with the applied discount. Had I become irate or raised my voice, chances are the manager would not have been so generous.
As we discussed the highs and lows of vacation, I thought about how this lesson in patience also applied to the bigger picture. Although disappointed in having to wait so many years to finally do it, skydiving was much more enjoyable since I had waited.  I'm sure it still would have been an incredible experience at 18. But, I feel like I more fully appreciated it now, especially since I got to share it with people I love. Patience is a valuable virtue that can reward you in ways you may not comprehend until you reap the benefits.
 Read More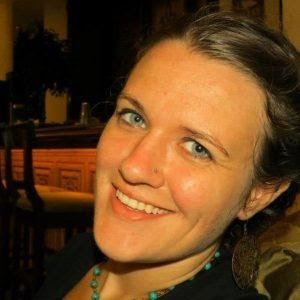 Jenny Smedra is an avid world traveler, ESL teacher, former archaeologist, and freelance writer. Choosing a life abroad had strengthened her commitment to finding ways to bring people together across language and cultural barriers. While most of her time is dedicated to either working with children, she also enjoys good friends, good food, and new adventures.