by Sara S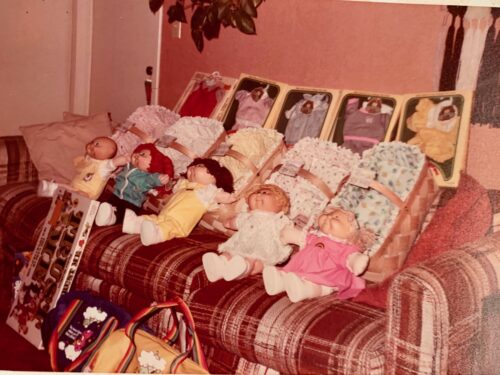 The year was 1983. Cabbage Patch Kids were all the rage. I was two years old with four older sisters. And we ALL asked for a Cabbage Patch Kid for Christmas (along with thousands of other children).
Money was tight for my parents, but they really wanted to pull through on this one. Marketers played the game so well that dolls couldn't stay on the shelves. People were camping out all night and rioting just to get a Cabbage Patch Kid. The holiday supply-and-demand hysteria was born!
My parents asked all my extended family across the country to help look for dolls. Relatives searched in Tennessee, Virginia, California. They didn't care if the doll was a boy or a girl, wearing an outfit they thought we'd like or what. They just needed a legit Cabbage Patch Kid.
Their perseverance paid off. As Christmas neared, they had gathered four. They just needed one more. And then a solution appeared: my mom was at a bazaar when she saw a knockoff Cabbage Patch-ish doll that was pretty darn close. She bought it immediately and planned to give it to me, their tiniest and least observant child.
On Christmas morning, we came out to see that Santa had lined the dolls up for us on the couch (pointedly out of the boxes so it wouldn't bring attention to the fact that mine was different). My mom had even sewn little blankets and pillows with matching fabric for our dolls. We were all in love. I had no idea I had a fake one, and my parents were high-fiving.
I named my doll Kelly, and she quickly became my right-hand gal. We did everything together. I started telling wild stories about things Kelly and I did together. We saw a tiger in the backyard! We went to the mall just the two of us!
Kelly was so loved, however, that the threads holding her head on began to wear out. Apparently I was heavy on the head-hugging. Without the security of high-quality machine stitching, her head eventually fell off completely. OH. THE. HORROR.
Fortunately, my mom sewed it back on. Only to have it fall off again. So she attached it again. Repeatedly.
Kelly losing her head became a key feature of my childhood. The worst part was every time her head fell off, my sisters would set it on their shoulders and sing, "Put your head on my shoullllderrrr." It would send me into a RAGE. My sisters can still laugh to tears talking about it. Poor Kelly!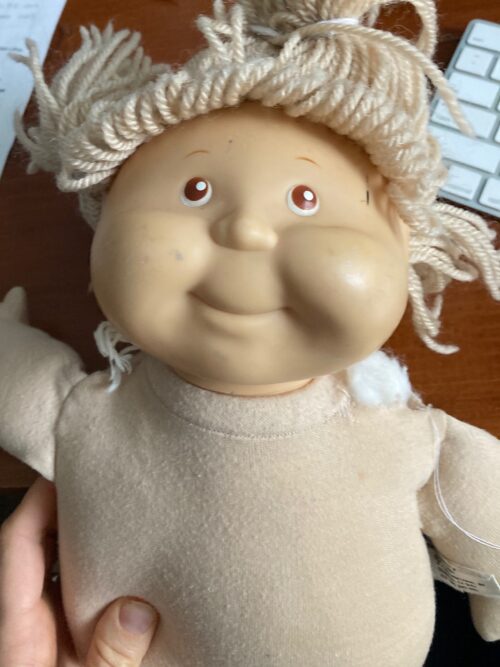 But here's the kicker: I still have Kelly. My kids play with her. Sure, she still pops seams. I resewed her shoulder recently (surgery went well, thanks for asking), and I texted my mom a picture. She made a joke about "Put Your Head on My Shoulder" (et tu, Brute?), but then said, "You sure loved that doll. I bet none of your other sisters still have their doll."
And she's right. None of them still have theirs. My cheap, fake Cabbage Patch Kid outlasted and outloved the real ones.
When it comes to gift-giving, we put pressure on ourselves to make things perfect. Marketers feed into that. They create crazes and the feeling of scarcity. Especially after such a rough year, we all want to feel some holiday magic. But the reality is there is nothing I can buy for Christmas that will heal the mental pain of this pandemic. And there's no amount of money that will create the elusive perfect Christmas.
I think there's a lesson with this faux Cabbage Patch Kid. Showing people you thought about them and care about them? That matters. Staying under budget and not stressing yourself out matters. As much as your kid wants a crazy expensive or impossible-to-find toy, they want your calm even more.
Let's not lose our heads this Christmas season. (Sorry, Kelly… I couldn't resist.)