by Sara S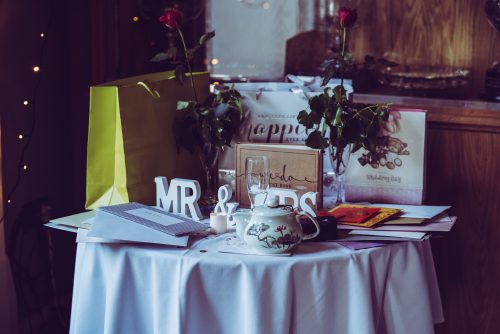 My nephew got married this spring. They were one of those couples that bumped up their wedding date as COVID-19 got more and more serious, and ended up doing a quick ceremony the very end of March with their parents as the only guests. The rest of us will get to celebrate with them later.
In the mean time, we went ahead and sent them a gift. They're both young and getting the hang of adulthood. I ordered something from their Amazon registry (what a time to be alive!), and then I sent my new go-to graduation and wedding gift: "The Total Money Makeover" by Dave Ramsey.
I'm not one to volunteer financial advice to people, but lately I can't help but give this book to everyone I love in their late teens and twenties. I always include a note saying, "I wish I'd read this at your age." And I 100% mean it.
My parents taught me to be frugal, to give, and to save, but I wish I'd had more specific money instructions. Clear principles to guide me, baby steps to follow. If Marty McFly let me borrow the Delorean, I'd go back and grab my 20-year-old self by the collar and talk to her so crazy eyed that even Doc Brown would pay attention.
So what financial advice would I give myself if I could go back to my 20s?
Learn to budget. Figure out what one really is—simply making a plan for every dollar you earn—and then get the hang of it before your life gets more complicated. It may feel like a hassle at first, but soon it becomes empowering.
Get a clear understanding of how interest works. And how it quickly works against you. See? You don't want to mess with debt.
You're a natural saver, but learn that saving has a purpose—create an emergency fund. Then once you have your first job after college, create an IRA immediately and put $100 in it every month.
Budget and save for fun stuff too. Buy less junk, and travel more. You're more free now than you realize!
You don't have to get an auto loan. It's possible to pay cash for a car. And don't let that guy at the Honda place smooth-talk you into buying a car you're not sure about. You're going to overpay (and the transmission will fail). You set your budget for a car and stick to it. Make big purchases with confidence.
Way to quickly pay off your undergrad student loans! Now keep a healthy fear of student loans, and do not accept that student loans are the only way to pay for graduate school for your husband. Pay cash for as much of his schooling as you can. Take as few loans as you can, and start paying them off ASAP. You don't have to keep them around for 30 years.
I know that so much of our wisdom only comes from experience. I can only imagine what money advice my 50-year-old self would have for me now. I picture more collar-grabbing.
What financial advice would you give your 20-year-old self?
We would love to hear about your personal journey on debt. If you thought of starting your own blog, you can use a free blogging platform such as WordPress. If you want to customize your blog on your own domain and need a hosting service, we recommend trying BlueHost. It offers powerful hosting services for only $3.95/month!