by Susan Paige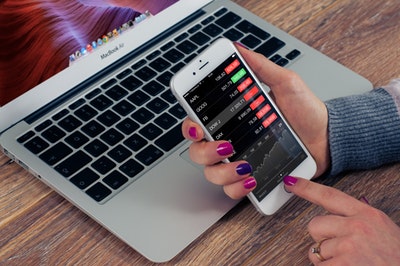 You've got to be creative to grow your money in this day and age.
Even if you're swimming in a mountain of debt, don't be afraid to take the steps that will get you out of it. In his legendary book, Think and Grow Rich, Napoleon Hill discusses mixing faith and desire with the right information so that you can create miracles in your financial life.
If you've got the will to make it happen, the investment ideas below can help you overcome even the most crippling debt. Use these points so that you can turn your lack of cash flow into real investment opportunities.
1. Find and Use an Investment App
Today, technology makes it easy for you to invest money. In literally a few seconds, you can have an account that spreads your money out across several investments.
Some of these apps connect to your checking account so that you can stash pocket change into various investments and watch it grow without even thinking about it. There are also apps that can help you get plenty of cash back savings, which can help you out for the long-term.
Get creative with the apps and technology that you decide to use, and you'll be well on your way toward climbing out of even the worst debt.
2. Stash Some Money in a Mutual Fund
Year in and year out, mutual funds have remained among the best investments that you can make.
With a mutual fund, you're able to allocate money across many different industries. The key to winning with mutual funds is to diversify them as much as possible and to set aside money on a regular basis.
You need to keep up with major industries, such as energy and tech. Staying abreast of things like oil price investing can help you make the best investment decisions for you.
There are several portfolio management companies that will let you allocate money to mutual funds with an app or the click of a mouse.
3. Follow a Yearly Savings Plan
There are lots of savings plans and challenges available that can help you save as much as $10,000 in a year, little by little.
When a new year approaches, this is a prime opportunity to jump onto one of these savings plans.
You start small, saving a small amount per week, before then growing it little by little. From here, you are able to get into the habit of saving money, until it becomes part of your life.
4. Build Your Retirement Portfolio
You deserve to have a nest egg that allows you to relax in your older age.
There are lots of investment vehicles that you can look into with excellent interest rates. These rates will grow your money much faster than a general checking or savings account will.
The key to this is making sure that you start your retirement savings as early as you can — even if you are trying to climb out of debt. You will thank yourself later once you are able to retire on your terms, without having to work for the rest of your life.
5. Research Long-Term and Short-Term Stocks
Stocks are still a hot ticket when you are looking to grow your money.
To do this, make sure that you look into some stocks that can grow for you both over the long-term, and for short-term gains. Learning about these different stock options will make it easier for you to learn the market as a whole, and will guide your decisions.
Do as much research as possible so that you can choose the stocks that will be the most useful to your financial needs.
6. Resell Some Products Online and Re-Invest the Earnings
You may think that you don't have the money to start a reselling business, but the internet has made it possible to do so with just a few bucks.
You can go to thrift stores and yard sales and find used items that can be hot sellers on Amazon and eBay. However, you will need to do your research into which items are the best, so you can be sure that you turn a profit.
Most importantly, make sure that you then have a plan to re-invest your earnings to make them work for you.
7. Invest in Yourself By Building a Brand
When you have a brand, it can become an investment that pays off down the road.
In fact, starting a blog about getting out of debt and investing can start out as a way to help yourself, and turn into an empire that helps others. People will be inspired by seeing how you did it and will feel compelled to become customers once you start rolling out products.
8. Protect Your Nest
Finally, make sure that you're also improving your home, so that it can always be a strong investment for your portfolio.
Do things like fix the foundation, repair the roof and make improvements to your fixtures and decorations. This way, you can build some equity in your home that will pay off in the long run.  Picking up a home warranty plan can also help cover some of the costs of big-ticket repairs.
Put Your Investment Ideas to Use
These investment ideas are winners that will help you go from debt to financial growth. Put them to use and always seek the best advice possible.
We specialize in helping people like you get out of debt for good. Keep reading our content and contact us if you have any questions.