by Elizabeth S.
Hello again!
I'm working on what I referred to as "The Reckoning" but struggling, so I decided to be honest about what is going on.
Hitting my Goals
My goals are moving along beautifully. It's Friday and I've been to the gym three times! I signed up for a trial of the weight loss app Noom, which uses the principals of Cognitive Behavioral Therapy (CBT) to help form lifelong habits. This isn't a fitness blog, so I won't get in to the specifics (but feel free to ask about it in the comments). Going to the gym, I weighed myself, and while I actually haven't put on pounds since last year, I've lost muscle and I am obese. Yep, I'm apparently obese based on my BMI! I am fairly heart-healthy thanks to a lifetime of endurance sports, but heart disease runs in my family. Being tall with a large frame, I can hide weight gain pretty well… but, it's time for changes.
Gym + planned meals = within budget for spending, my dear readers. I am having a hard time tracking money (more on that below), but I've had very few transactions since last week, so things are ok.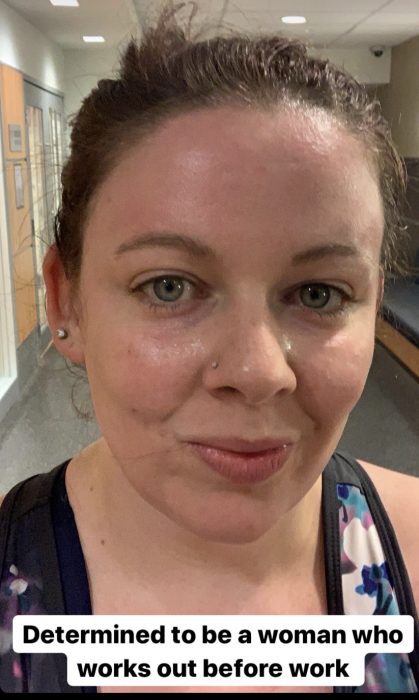 Real Life
I've been hemming and hawing about how honest to be about my personal life. The reality is, since around when I wrote about my ex in my first post, we've been together. Yes, the whole dang time! It's messy but beautiful, like it has been since we were teenagers. Two people can love each other but also be going in (profoundly) different directions. He has a construction job for a couple of months, and we've decided to try and figure out for the last time if there is some way to make this work. It's always fine while he is working, but when his restless gypsy heart stirs, he moves on to the next thing (a self-imposed employment sabbatical or an impromptu months-long trip to BC) . In the past, that has left me scrambling to pay bills for shared leases and utilities. He always gets the money, but it's rarely on time, and that gives me tremendous anxiety. Worry not, though – I am not joining myself to him legally or financially.
We are going to go to therapy to talk about finances and life goals, and respecting each other's dreams and boundaries. There are some affordable options, and he can pay since I'm watching his dog during his long work hours.
Existential Questions
I always thought I would be married with children by 25. My parents had me very young, and I'm the eldest of five siblings who are all further along in life than I am. Granted, they live in very small places with extremely low cost-of-living. I have a sister who bought a house and had a baby at 22 (in a place called Pictou County – the house cost as much as a mid-range car)! Another sister was married at 22. And my brother, the next eldest after me, has a baby, a defined and profitable career trajectory, a fiancee, and … *drumroll*, he is mortgage shopping. The homeowner sister was given a mortgage while she was a student and her husband worked at the Apple Store. Yes, a retail job. Readers in large cities will understand how mind-bogging being approved for a mortgage with a retail income is. And here in Toronto, friends in their mid-30s talk about not being ready to settle down yet. City vs. Rural – the divide is real!
Me? I make more than 2.5 siblings combined. My friendships are rich, long, beautiful relationships that have been nourished since childhood. My rented house is spacious and affordable (unheard of in Toronto), and my pets bring me so much joy. But I can't figure out my purpose, my passion. There's this niggling thought that time is passing me by and I'm stuck. Does anyone ever feel that way?
I can't seem to think about anything else this week. I wonder what I should be doing in life. Why do I feel so uneasy?
Oh yeah, I'm a finance blogger
I haven't tracked spending since the paycheck on August 30th, and it seems insurmountable now. It's not the former ex (awkward title, ha!). We both work crazy long hours – he only gets weekend time with me. It could be that it's September and I haven't had any time off since last Christmas. I've become basket case, worried and exhausted. Is it crazy that I'm daydreaming about being called for my finger tumor surgery just so I can have another few days off work? Yikes. Next week, I'm taking at least a few days off for staycation and catching up. I'll definitely have some visuals (I'm working on some Excel charts) for my spending in August by then, if not sooner.
Tracking Help?
I loved EveryDollar at first, but it seems like a terrible amount of work right now. I don't have a September budget finished, and I don't have any interest in spending two hours doing that. And why is biweekly pay so frustrating to track monthly?! There has to be a better way. I took physics and math in university but when I look at a budget, I see stars. I can't figure out a clean way to allocate bi-weekly paychecks in to monthly budgets. Is there a way to budget every two weeks?
However(!!!), I am still trying to improve my situation. TD owns my car loan, and I received an email from them about a pretty good deal (I think?) on a line of credit.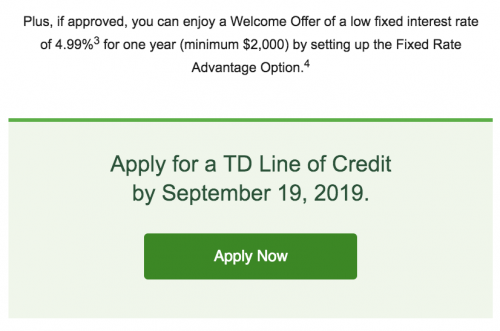 The catch appears to be that, after the first year, it switches to a variable rate which is Prime (today that is 3.99%) + 8.49%. I've only done a few minutes of Googling, but that rate would be higher than the average fixed rate. I've got a bit more research to do on this. I don't want to apply and have my credit dinged with a hard inquiry if it's not the best offer. Seeking advice on this from readers!
My savings are up, but debt isn't really down, and I feel adrift. I'll pull it together and get you the hard numbers, I promise. Monday seems like a good day for that.
Elizabeth is a single woman in her early 30s, working as a manager at a software company and living in the most expensive city in Canada. She hopes to blog about her journey to eliminate debt and build savings for home ownership someday. Whenever she has taken two financial steps forward, she's always taken a step back with a bad credit card purchase (we're looking at you, unnecessary iPhone of May 2019). Elizabeth lives alone with her fur kids, a dog and cat, and when she's not in front of the computer, she enjoys running, camping, reading, and baseball.