by Elizabeth S.
Editorial note: This post was supposed to be published August 6th but was lost in the digital ether. I will catch you up today and tomorrow and then we will be back on track with a real-time update Wednesday! 
A lot has happened since I last wrote, in both life and spending. 
Budgeting success thanks to a reader comment
Firstly, thank you to Margann34 for recommending the EveryDollar app. It's exactly what I need! With the Mint app, my student loan and investments wouldn't sync, and YNAB is having issues with almost all of my financial institutions (they worked in the past – what a pain!). Well, I set up EveryDollar and spent the last six days tracking each transaction in there. It was eye-opening, to say the least. I went to the grocery store every single day since Friday, including on a statutory holiday Monday (laws surrounding holiday store closures have loosened recently, and most grocery stores are now open). 
Visit from an old friend
My best friend from Ottawa visits about once a year, and he came over Friday. We had planned to go out that evening, and prior to that, I made us steaks and served wine. We ended up heading out with mutual friends and dancing the night away. Between groceries for dinner, my Uber contributions, a couple of rounds of drinks, and dim sum brunch the next morning, seeing Dan cost me $210.
On the one hand, that is staggering, but on the other, that's a really inexpensive 16 hours in downtown Toronto. We ate at home, went to a bar with no cover and $3 drinks (drinks are usually $10+ at any places people in their 30s go), and then went for cheap dim sum in Chinatown the next morning. I need to be more upfront with my friends about my financial goals, certainly. This isn't a hit to my budget (yet). I have some room for this spending if I am "good" for the rest of the month!
A worrying turn for my dog
Rosie has an auto-immune condition that has been under control with diet for the past 20 months. Swimming used to cause her terrible rashes due to allergies, but she's been fine for a couple of years. After being in the water for three days straight at the cottage, Rosie had a reaction from head to toe. On a related note, she had a few lumps removed in December 2017 and one ended up being malignant. She always has a few lumps, and the vet said to keep an eye on them and only bring her in if the lumps are bothering her. The swim caused her to go after one of her bad-looking lumps. I woke up at 4AM last week to her crying. There was blood all over her bed and the floor. She had gotten to two of her lumps and they were nasty, hard ones (the ones the vet doesn't like).
In a terrifying coincidence, she also got into the garbage over the weekend and ate THREE old cobs of corn(!!!). I found out when she fainted from lethargy and her stomach was almost bursting, it was so taut. This has never happened in her life because I am militant about keeping the garbage locked up. Labs and garbage = moth to a flame. We had a double whammy emergency vet visit and I am so glad she survived without surgery. She puked up the cobs on her own.
What does this mean for the August budget?
I don't know yet how this will look for the budget. Rosie has insurance, but the one thing the insurance doesn't cover is lump removal as it was a pre-existing condition. Insurance should cover the visit over the weekend and the subsequent steroid prescription, but I won't know for a few days how much my co-pay is. If she needs surgery, it cost about $700 all-in last time (tests beforehand, surgery, and follow up care) and that would eat up my entire savings account. It might be more responsible to put that on a credit card and continue building emergency savings so I don't end up homeless. I'll cross that bridge when we get to it. Today is the vet visit to check out what is in the lumps and determine if they need to be removed. I'll keep you posted.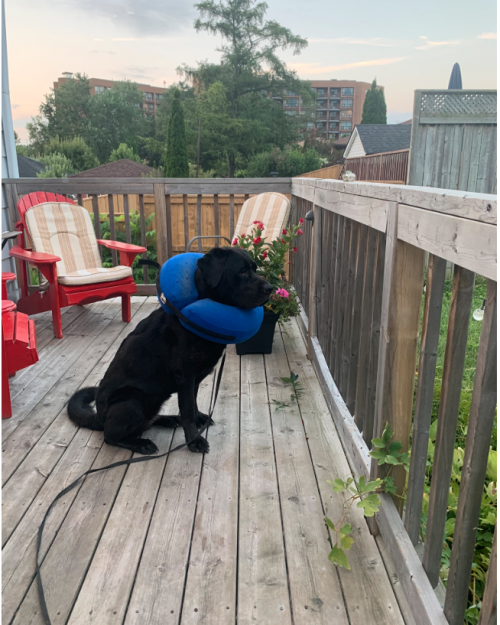 (This airline pillow-looking thing keeps her from biting her skin)