by Susan Paige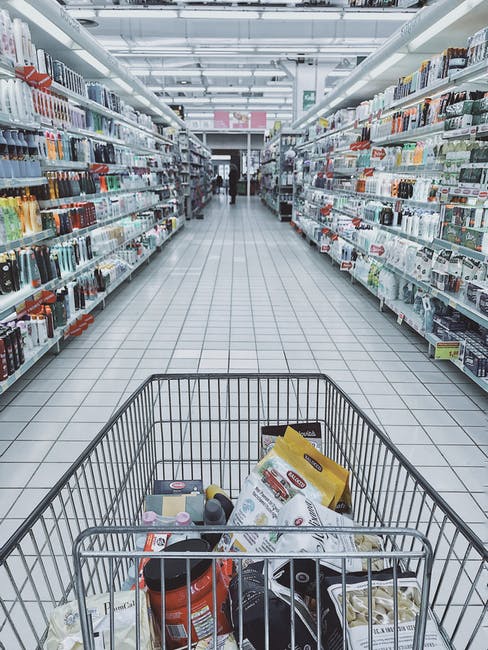 With 307 billion coupons in circulation in 2016 and only 2 billion redeemed, that's a lot of savings gone to waste.
Luckily, coupons have evolved since the days of snipping up newspapers. Digital rebates offer many more options to save money even after you made your purchase.
By utilizing several grocery rebate apps, you can easily search for products that you already plan to buy or have bought, then get money deposited into your account for cash and/or gift cards.
Get started by checking out these simple apps that will have you rolling in rebates.
1. Shopkick
This is one of the best reward-based rebate apps since you can use it online or at the store.
Use your smartphone to scan the things you buy in the grocery store to earn "kicks" or reward points that add up to real cash. You can also link your credit or debit card to the site and earn one "kick" for every dollar spent.
If you use cash or another card to buy items, just upload your receipt to the site when you get home to collect your rewards.
Plus, you earn points even if you don't shop. Shopkick gives you rewards for visiting affiliated sites, clicking on offers, or watching promotional videos for new products.
So, what do you with these "kicks"? Cash in your points for gift cards to just about any store. One customer even earned enough to cash her "kicks" in for Walt Disney World tickets.
Your earning potential is unlimited. Every 100 "kicks" gets you 40 cents in real cash, so keep on kicking.
2. Checkout51
Are you looking for cashback apps that offer rebates in real dollars? Checkout51 has become one of the most popular apps to get checks sent to your house. You can cash out once your account reaches $20.
How do you start earning on Checkout51? All you need to do is download the app and sign up.
Then add items from the app to your built-in shopping list. After purchasing your items check off the products you bought. Upload your receipt using the app's camera. Then, once your receipt is reviewed, your account will be credited.
Offers renew every Thursday, but you can use the same deal as many times as you would like before it expires. And there are special Wednesday deals that send you bonuses on Friday if you use them.
The offers show you the exact rebate amount, so there is no confusion as to how much cash you will receive.
3. Ibotta
The best grocery rebate apps now allow you to receive cash directly through PayPal or Venmo. Ibotta does this in under 48 hours of reaching $20 in your account. Or you can opt to purchase a gift card with your earnings.
How do you get started earning cash with Ibotta? They offer three ways to get your rebates.
You can use the upload receipt option where you complete certain tasks to unlock promotional items. Buy those items at the store, then get your receipt verified on the app or web site.
For a faster way to earn, link your credit or debit card, your store account, or your phone number to your favorite store. Complete the tasks to unlock your offers. Rebates will be added to your account automatically.
Even simpler is the in-app purchases options. Just browse offers in participating apps. Tap on the offers to open the app and make a purchase. Your rebates will be instantly recognized and start pending.
Other great features about Ibotta is that there are ways to earn more rebates by including your friends. You can build teams on social media to split your rewards and invite friends to earn bonuses up to $100.
There's a separate bonus section to complete more online tasks or purchase promotional items that earn more. The earning potential is endless with this app.
4. Rebate Key
Have you ever purchased an item that offered a rebate if you mailed in the receipt? Rebate Key works similar to this except it is done online and for multiple stores.
How to use grocery store rebate apps like Rebate Key? Normal rebates that you happen to find in the store after you have chosen a product. But, Rebate Key puts all those items in one place.
All you have to do is make a purchase online, then enter your order number. The retailer will confirm your purchase using the order number. Your account will be credited once verified. There is a 35-day hold to ensure accuracy of each sale.
You will get the full amount of the rebate, but only one rebate is allowed per product.
5. Paribus
The best grocery rebate apps are automatic like Paribus. This app tracks price drops in recent purchases then refunds you the difference.
All you have to do is sign up using an email address that you use for purchases as well. This is because the app will monitor receipts coming through your mail.
The refund will automatically be credited to your original payment method with 3 to 7 days.
This is a perfect, free, and easy way to make sure you are getting the best price without even looking for it.
Using Multiple Grocery Rebate Apps at Once
The great thing about grocery rebate apps is that you aren't limited to only one. Plus, they all serve a different purpose, so you can make sure you never miss a deal or a rebate offer.
Most apps are free, so you can start by experimenting with the ones on this list and expand to more as you master each one. You can search for more rebate apps that you can download on your android here.