by Hope
I've taken your recent notes to heart and did a complete overhaul of my budget.  I included line items for travel, clothing and gifts. But I did combine my grocery and entertainment line items as I feel that most of our entertainment revolves around meals and this just makes sense for how to manage it.
Hope's Summer 2019 Monthly Budget
Description
Monthly Budget
Savings
$100
Rent
$650
Groceries/Entertainment
$800
Household (hygiene, cleaning, etc.)
$10
Auto - Gas
$120
Auto/Rent Insurance
$250
Utilities (gas, electric, water, trash)
$300
Life Insurance
$23 (paid quarterly)
Buffer
Kids Activities
$83
Gifts
$83
Clothing
$100
Travel
$500
Auto - Maintenance/Fees
$30
Debt Payments - minimum payments
Car Payment
$400
Credit Card
$62
Collections
$0
Student Loans
$100
Sub-Total
$3,611
Sea Cadet & History Buff's Contribution
($307)
Total Personal
$3,304
Notes
Travel – this line item takes into consideration 3 annual trips to my parents in Texas for the time being and a couple of round trip flights per year for Gymnast to visit. It seems really high, but I believe it is realistic.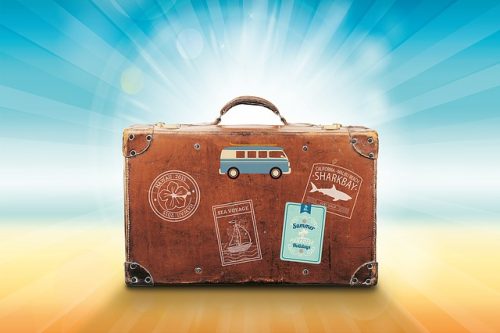 Clothing – this is high considering I am only really purchasing clothes for Princess and myself on a regular basis now. But I am going to need quite a few new clothes soon based on my weight loss. I'm holding out for now, but am preparing for it.
Gifts – I feel like $1000 annually is plenty to cover birthdays, Christmas and Easter. Those are really the only times I purchase gifts. There is a little bit of a buffer in there since I must ship things to Gymnast.
Groceries/Entertainment – since most of our entertainment involves eating it seems, I decided to combine these line items. I think this will go down quite a bit this summer and then this fall with the twins staying busier and then Sea Cadet leaving. It's absolutely crazy to me that last August I had 4 kids at home and in just a few short months, I will be down to 2. Before I know it, it's going to be just Princess and I.
Did I miss anything? Any thoughts or questions on this budget?
Thinking About the Future
At this point, History Buff is hoping to transfer to a 4 year school next January. He is hoping to pursue a degree in Construction Management. That is definitely subject to change, but right now that's what he is thinking.
Gymnast is planning to complete his first year of high school in Illinois.
And Princess will be getting her Driver's Permit this May and then driving in a year. Yikes!
I will possibly be down to one child in less a year. Boy, how my budget will be different then.