by Hope
We made it 22 days into October before I had to break down and spend some money. I'm pretty proud of that number, it's definitely the longest I've ever gone.
But the kids finally convinced me to hit up the grocery store. (I combined my shopping with my personal shopping client so it didn't cost me anything in regards to extra gas or time away from work.) I spent just at $36.
With both twins taking their lunch to work and Sea Cadet taking a dinner to school two nights a week, our lunch meat ran out. Then we ran out of milk. And I ran out of bacon. We are out of fresh veggies and fruit as well, but have plenty of canned still so I decided not to restock those at this time.
Buying Meat on Sale
But I was in luck, I found 3 packs of sandwich meat (12 oz each) marked down to $2.49 each due to the use by date being within the week. Since I knew the boys would eat it quickly, I grabbed them. I put one in the freezer to extend it a few days and they should last us to the end of the month. Yeah!
Back in Virginia, I knew which days the grocery stores marked down in their meat department was able to get great deals on meat by buying it close to the expiration date. Since I freeze all our meat, the expiration date doesn't matter much to me.
Unfortunately, bacon never seems to be on sale, but I determined I could make it through the remainder of the month with one pack. I just can't stomach eggs without bacon, but cooking them in the bacon grease solves this. As I cook the bacon a couple of pieces at a time, I will save the grease. When I'm out of bacon, I can use the grease to satisfy the taste issue for me until I restock.
Meal Plan
We are still going strong following our meal plan and I haven't deviated much. But I have a few times. With the cold weather setting in, I am cooking more soups that I planned on in the crockpot. Their favorites thusfar have been potato soup and chicken taco soup.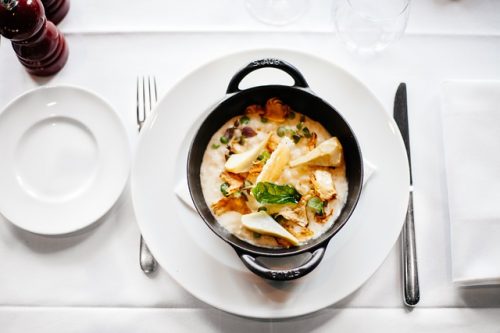 It's great for two reasons: 1) I started it and forget it for the rest of the day. Voila, dinner is ready when the kids are hungry without me having to stop work. 2) I'm able to use more canned items in the crockpot than I normally would and am really working through cans of things we probably wouldn't use otherwise.
As we eat meals, some newly created, I am making a list of the ones the kids love, and already started on the meal plan for November, along with a grocery list as we run out or low on things so I'm ready to grocery shop when its time.
I did splurge on one item, it was only $2.50 and I feel like I've already gotten that back. I purchased a box of 4 crockpot liners. I've never used them before but as much as I'm using the crockpot, cleaning it is a pain! I used one for the first time this week and I'm not sure I will ever go back!