by Ashley
Hi All,
Happy Monday! I hope everyone had a great weekend! Ours was busy, but fun! Friday night we went to a colleague's tenure potluck party with the fam. Saturday we ran some errands, went to a park, and spent some time at our neighborhood pool.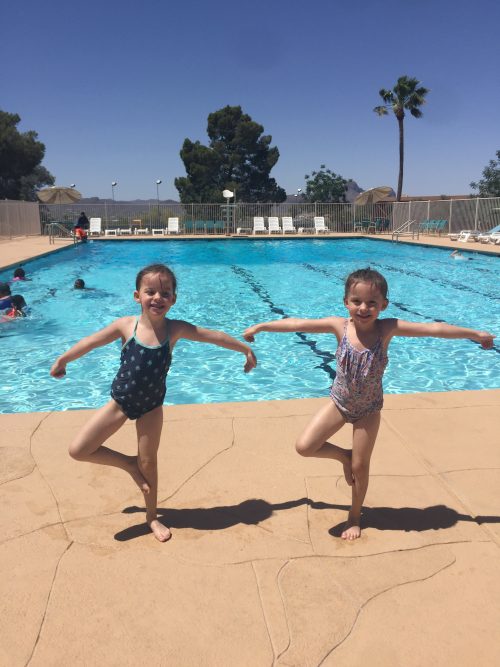 The girls have seen me do at-home yoga a time or two. 😉 Random tip for other yoga-loving parents – have you heard of Cosmic Kids yoga??? I find FREE kids yoga videos from Cosmic Kids on YouTube and the girls adore it! Their favorite is the Elsa yoga, but all of them that we've seen have been great (they basically tell a Disney story while doing yoga to make it kid-friendly).
And Sunday, of course, was Mother's Day. I haven't been sleeping great lately, so my first "gift" was the gift of peace and quiet! Hubs got up with the girls and got breakfast under control so I could sleep in. I got a full 8 hours of sleep and it felt GLORIOUS!!!
I'd requested doing something physically active for the day and it was set to get HOT, so we decided to head out right away in the morning. We debated between a hike and a family jog/bike-ride (when we do this, the adults will jog and the kids ride bikes), but in the end we opted for a hike on a new-to-us trail.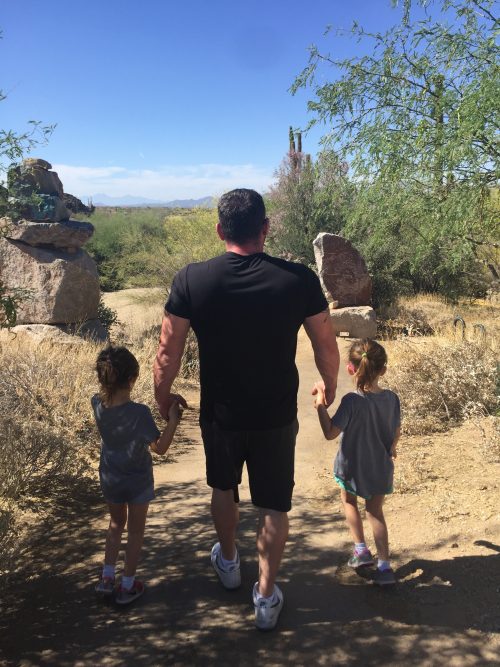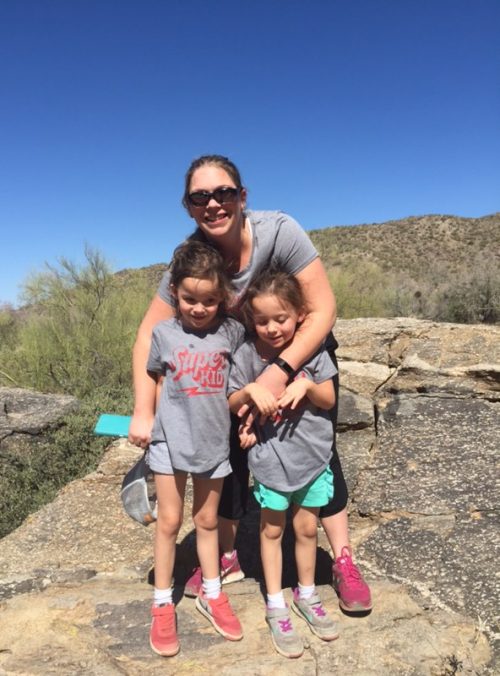 We did the Wild Burro trail; the trail head is just inside the gates of the Ritz Carlton grounds so it seems SUPER SWANKY, but in the end…it's just a trail. lol. Wasn't the greatest hiking trail – no fantastic views or anything – but it was a lovely scenic drive on the way there and back and it was 100% FREE, so you can't argue with that! We followed it up with lunch at home, another trip back to the neighborhood pool (twice in one weekend – summer must be upon us!!), and some lounge time reading on our couch at home. All-in-all, a lovely weekend.
Our only real Mother's Day-related "splurge" were these matching Old Navy shirts that we got on sale (I think $7 each?? They were very inexpensive). The girls' said "Super Kid" and mine said "Super Mom." Last Mother's Day, my mom gifted us girls matching PJ sets and I loved it SO MUCH that I would really like to do an annual Mother's Day matching Mom-And-Me clothes tradition. Doesn't have to be fancy. $7 Old Navy shirts certainly aren't. But it's a little thing that meant a lot to me and as the shirts are in leu of any other Mother's Day gifts and are super sentimental, I don't think it's too frivolous. (For the record – the girls also made me a gorgeous gift basket from their school with all kinds of kid-made gifts!!! Turns out, that's what the ceramic craft was all about!!! Their teachers are good!!! Hubs got me a nice card and a small bouquet of cheaper flowers. Nothing lavish or crazy.)
Mother's Day is strange because it's kind of a tough holiday. It makes me reflect on and be thankful for my own mother and other matriarchs in my life living and gone (grandmothers, friends' mothers, etc.). It also makes me hyper-aware of my friends who are single mothers, or those who have lost their moms, or those who are trying to be mothers and struggling with infertility or the loss of a child. Just this year one of my sister's best friends lost her 4-year-old daughter to childhood cancer. So I am aware of the struggle and hurt that many go through on this day. And I also reflect on my own daughters. So grateful that I get to be their mommy. But also aware of my many flaws and the mistakes I have made on our journey together. I'm so thankful that each day is a new day to get it right. Both in motherhood, and in finances alike. 😉
Sorry for the absence. May has got me like "whoa!" Graduation was this past Friday so it's officially our summer "break" (said in quotations because I am on a 12-month contract….but things are certainly less chaotic during summer). I'll be back soon with more posts and financial updates. Until then – hug your mom (or your dad, or your spouse, or your friend, or even just yourself). Hugs!
~Ashley
Other reads you may find helpful: