by Ashley
Well, you guys called it!
On my budget post a lot of people commented that we should build in a "Miscellaneous" category for those undoubtedly unplanned expenses that would pop up. No sooner did you say it, than I received this notice from my kids' kinder classroom: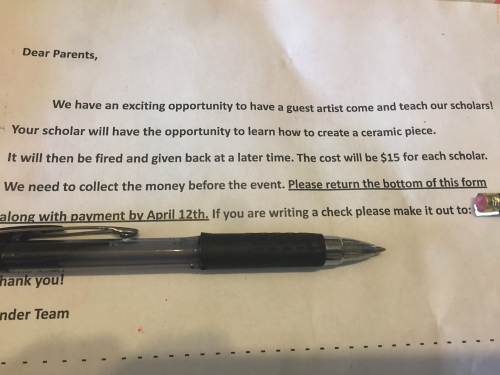 I covered up the name of the school for privacy reasons.
They want $15 per scholar (we have twins, so $30 for both) to participate in a special ceramic art thing. My mom has taken the girls to a ceramics store in the past and I recall it being crazy pricey (going off memory – and I'm not the one who paid – but I want to say it was close to $40-50 each). So I know that $15/student really isn't a bad deal. But, of course, it's something we didn't budget or plan for and both kids are BEGGING to be included in the art activity. So….we'll end up paying the $30 and letting them participate. Sigh.
On the bright side, we've been doing really well with our food budget so far. I know we're only 4 days into the month, but I'm tracking every single penny and plan to do weekly updates to help hold me accountable. I got a little hammered on how crazy/inflated our food budget is (as I was expecting), and I've made it my personal goal to slash the category by at least 20%. It will take a little creativity, but I know it can be done (or…..as many commenters posted…maybe it takes no creativity at all??? Like, instead of being "creative", we'll be having chicken, chicken, and more chicken. And when we get sick of chicken, perhaps a sloppy joe or spaghetti night. lol. Really though – I appreciate all the tips and suggestions!)
Hopefully we'll save enough on our food budget that this unplanned $30 expense won't be a big deal.
If your kids have a "special" activity at school that costs extra money, do you let them participate? Would you set a limit on how much you'd spend? 
You may also want to check these out: