by Ashley
Just popping in with a fun "life" update today. If you are only interested in strictly financial posts, just skip this one and check back tomorrow – I'm finally posting my budget!
I've mentioned a couple times about how I've been training for a big running relay race called Ragnar.  Well, the race is complete! It started Friday and ended Saturday. Today, I'm at home and in full recovery-mode (meaning, as little movement as possible and fully stocked with ibuprofen) 😉
Here's a picture I posted on my Facebook: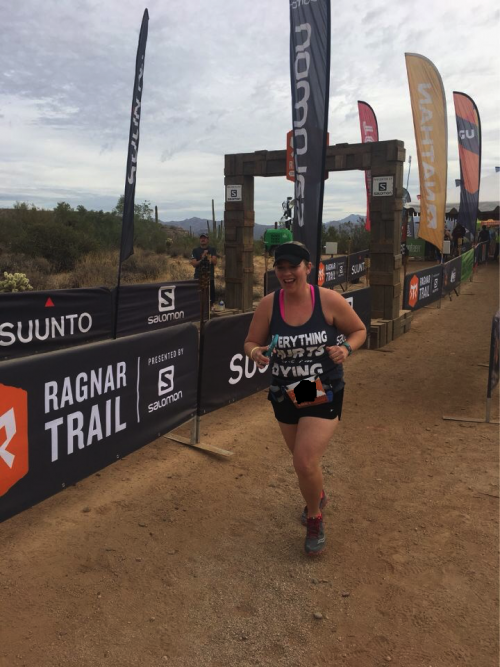 23 hours, 15.4 miles of mountain running, 2.7 hours of sleep, 8 crazy teammates. So much fun!
Each member of our team had 3 different legs ranging in length from 4.1 – 6.6 miles of trail-running/mountainous terrain. I ran my first leg on Friday evening, my second leg on Saturday about 3am, and my last leg on Saturday at 10am. This photo was taken as I was taking off for my last leg of the relay. My shirt, appropriately, says "Everything Hurts and I'm Dying." A little tongue-and-cheek, but definitely fitting for how I felt at that moment. I wore my Fitbit the entire time and for Saturday, my stats indicated that I'd gone 37,726 steps (= 17.91 miles), and climbed the equivalent of 114 flights of stairs (from the mountains we were running)! To say I'm pooped today is an understatement!
BUT – tired as I may be, I had an absolute blast! It was THE BEST time ever! And, as I've got 3 half-marathons under my belt (but nothing longer), this is a PDR (personal distance record). YIKES!
All my teammates immediately said they wanted to sign up again for next year. I'm still on the fence. I loved it, but I typically only sign up for a big race once every couple years. Committing to do it again next year feels like a lot to me. There's a lot of time and effort dedicated to training, but it also costs money to go (the race was $120/person + we all pitched in another $25 for team shirts + a day off work, food and snacks for while we were there, etc.). We've got a few months to think it over so we'll see.
For today, though, I just wanted to share this major accomplishment! I've heard of Ragnar races before, but never really considered doing one myself. If it weren't for my teammates (friends/colleagues from my department) I probably never would have pushed myself to try to complete a Ragnar race. But the feeling of pride and accomplishment is huge! Just the little psychological boost I needed going into a new month! If I can accomplish something this big physically (15+ miles of running on mountainous terrain), surely I can conquer our monthly budget. Right?
I'll be back tomorrow asking for your advice! I'm already nervous, so bring your patient pants, as I could use your support!
Have a great end to your weekend!
~Ashley