by Hope
My Amazon Debt is gone!!!  I moved the payment date up to today. I couldn't resist. As of today, my Amazon line of credit is GONE! Paid in full.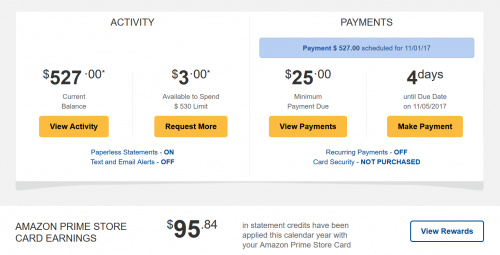 Doing a happy dance over here and breathing a deep sigh as I set my sights on my other immediate goals.
New Budget = More Work
I spent a lot of time this weekend working on a new budget since I have voluntarily taken a temporary cut in pay. And I hate to say it, but we cannot maintain our current life without those addition hours or an equal amount of income. I am on the project hunt, applying through Guru.com and reaching out to past and current clients who might have some project work they need done.  I know from past experience I can either get really busy this time of year with one off projects or it will be really dry. Please send up a prayer for me.
New Sport = New Expense
Before I say this, I will admit, I am crazy and obsessed with providing my kids with every opportunity.  I get enough flack for that, so don't think you have to tell me too (my attempt to stave off the whiplash I believe will come with this news.)  Princess recently tried out for a competitive volleyball team. She made it!  This team costs $1000 for the season. The fee includes all uniforms, tournament fees, training and so on. I reached out to her dad for financial assistance, we will see if he comes through.
Conclusion
I have one less monthly debt payment, and I plan to keep it that way – yeah!!!
I have a larger than manageable gap in my budget due to the cut in my regular 1099 hours.
I have a new substantial bill for the next few months ($300 due this week and then $175 monthly for the next 4 months.)
I've got my work cut out for me. And I would love some suggestions, specifically regarding making up the income as I really do not see anywhere I can cut in my budget, although I am still evaluating that.
Save
Save