by Ashley
I hope everyone is staying warm wherever you are! Here in southern Arizona, we're finally starting to get a little bit of chill in the air! Don't get me wrong, it's still 90 degrees mid-day. But the mornings and evenings are nice and chilly!
I'm pretending it's colder than it really is by making yummy (and cheap!) cold-weather comfort food! And I'm doing it by using up leftovers! We've been doing GREAT this month using our money envelopes for groceries! I plan to stay consistent with the money envelopes for the time being because it's really helped squash excess food spending! I've been in the process of a huge budget overhaul so a cheaper grocery budget is in our future! I'm glad I'm working my way back into a more frugal grocery lifestyle!
One night, I made a roast in my trusty crock-pot. I took the roast bones and put them in a pot of water on the stove and simmered them for a couple hours while I cleaned everything up and got the kids ready for bed. By the end of the night, I had wonderful homemade beef broth (with some chunks of beef that had been stuck on the bone).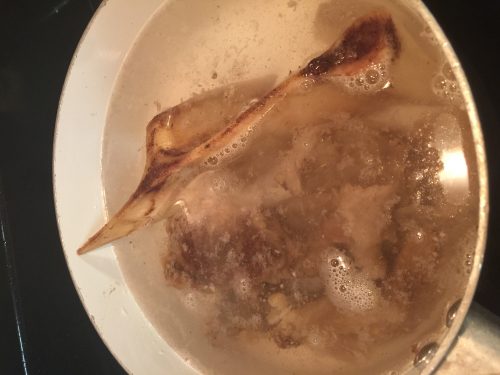 A couple days later, I used up the broth and some of the leftover roast by making a simple homemade beef stew. I only used veggies I already had on hand:  potatoes, celery, and carrot – I would've loved some onion, too, but we were out. I used onion powder for flavor and it worked just fine.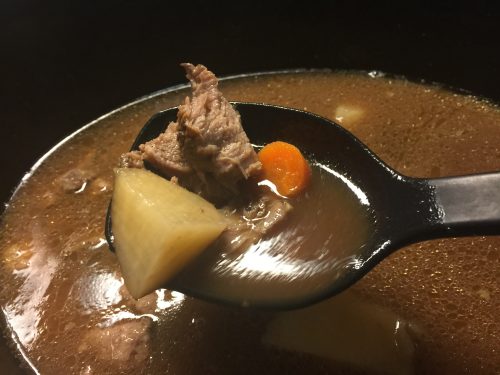 Considering how picky my kids' palates can be, they both absolutely LOVE soup of any kind! They both gobbled up everything in their bowls and asked for seconds! That's a WIN in my book!
The best part is that we had an easy, yummy, homemade meal that cost us no money at all because it was made entirely from food we already had on-hand! I LOVE repurposing food from previous meals so we get every single penny's worth! Score!
What are you eating this weekend? What are your favorite cold-weather comfort foods?