by Ashley
It's funny, even after 3 years of blogging here, you guys always keep me on my toes! When publishing posts that I think might be controversial (like this one or this one), I'm met with nothing but understanding and support. And then I write a post that I think is more innocuous (like this one) and I'm met with backlash on a level I haven't seen or experienced since early on in my blogging days. Before my financial successes, I was initially met with quite a bit of criticism (some constructive, some….not-so-much).
Nevertheless, I'm in academia. If anyone is familiar with the struggle of responding to "Reviewer #2" (an academic meme), then you know you must learn to grow thick skin.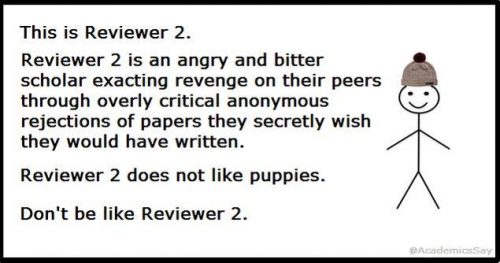 For the record – nothing in the comments was as bad as "Reviewer 2." In fact, most of the critiques were well-founded and reasonable. I agree with (most of) you! It's definitely time for a reset. I've been working toward that end and am making some good progress on a total budget overhaul. I appreciate the time and efforts many of you took to leave tips and suggestions or recommendations. I'll look forward to receiving more help and support when I actually post my budget numbers (eeeeeek! I'll need it!)
For the time being, I just wanted to pop in and say thanks for your feedback! If you haven't yet, check out the comments on my "controversial" post – I'm making my way through and trying to respond to as many as possible. I'm not always responding to specifics (in terms of numbers) because some of that will be addressed in a forthcoming budget post.
Have a great rest of the week!
~Ashley