by Matt
Hope everyone is having a wonderful day.
This past weekend was Father's Day, of course, so for all you fathers out there- here's to you. Since my dad was down in Orlando visiting my nephew all weekend, we did not do any celebrating. After talking with my mom and brother, we're holding off celebrating with my dad until the weekend of the 4th, since we all have the weekend off. However, just like for mother's day where I celebrated GF being the "mother" of our dogs, she did some amazingly wonderful things for me. First, she made me breakfast, and then I got to spend most of the day doing what I wanted (spent playing guitar) while she worried about taking care of the chores. She made the dinner of my choice (her awesome homemade chili and a Greek salad) and then took us for a drive to a little, but fairly famous, road side stand for root beer floats. On the way back, we stopped at a beach and relaxed in the park. Here's me on a child's swing, lol: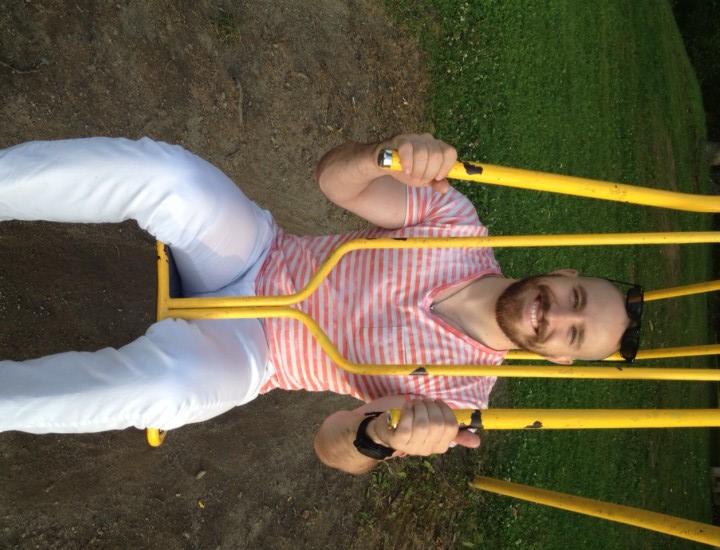 As for Disney prep- I appreciate all the amazing comments on last week's post. We now have some ideas for what we are going to do for food on our way back. Chances are at this point, we'll find a grocery store outside of Disney and grab some items to pack in our cooler on the way back. Like I said before, GF has begun picking up non-perishables for the ride down. The way she coupons and shops, I don't see a problem having enough non-perishable foods for both the way down and the way back up. We also started doing a "hardcore" cleaning of our house. The house never gets really dirty, but we don't clean into the nooks and crannies too often. GF and I agree that there's no better feeling after vacation than coming home to a super clean house. This way we won't have to worry about doing much in the ways of chores when we get back. If there's one thing about Disney, with the amount of walking and the lack of sleep, you could use a vacation after, so to speak, lol.  We started doing the cleaning last night and we'll move room to room until we leave in a couple of weeks.
For the last week of debt payoff, here's the numbers:
| Loan Name | Interest Rate | Original Balance- May '09 | Current Balance | Total Paid Off | Paid Since Last Week |
| --- | --- | --- | --- | --- | --- |
| Sallie Mae 01 | 5.25 | $27,837.24 | $23,838.59 | $3,998.65 | $57.94 |
| Sallie Mae 02 | 4.75 | $22,197.02 | $18,702.35 | $3,494.67 | $48.15 |
| Sallie Mae 03 | 7.75 | $20,692.10 | $0.00 | $20,692.10 | $0.00 |
| Sallie Mae 04 | 5.75 | $10,350.18 | $5,925.89 | $4,424.29 | $345.74 |
| Sallie Mae 05 | 5.25 | $6,096.03 | $0.00 | $6,096.03 | $0.00 |
| Sallie Mae 06 and 07 | 4.75 | $6,415.09 | $0.00 | $6,415.09 | $0.00 |
| Sallie Mae- DOE 01 | 5.25 | $5,000.00 | $0.00 | $5,000.00 | $0.00 |
| Sallie Mae- DOE 02 | 5.25 | $3,000.00 | $0.00 | $3,000.00 | $0.00 |
| AES | 6.8 | $9,000.00 | $0.00 | $9,000.00 | $0.00 |
| TOTALS | | $110,587.66 | $48,466.83 | $62.120.83 | $451.83 |