by Ashley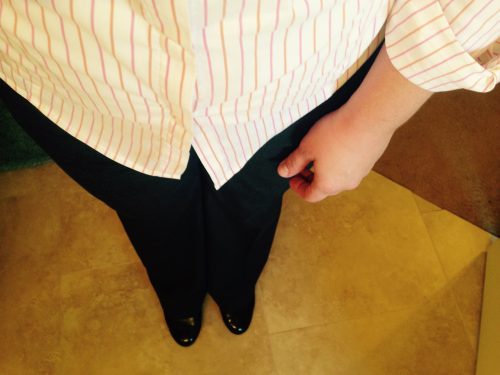 Third time wearing my interview outfit. It felt a little out-of-place in Tucson's deadly summer heat. I wore a dark grey pant (photographed darker due to indoor lighting), black low-heels, and a pin-striped long-sleeve button up. To make it a little more summer-casual I rolled up the sleeves and ditched the matching suit jacket. I still felt incredibly over-dressed at the interview. One person was wearing denim shorts. Another was wearing a t-shirt and jeans. Gotta love academia.
In spite of wardrobe faux pas, I do think the interview went well. They made references to an upcoming meeting with the dean (meaning….I move on to the next level of the interview process). So that's promising.
Additionally, just this morning I spoke with the department head of another department on campus (the same department where I interviewed in January). Apparently someone unexpectedly resigned, effective June 30th. They need to hire someone to teach a couple classes this academic year (one in Fall, one in Spring). They're also working at the college-level to try to get a full-time position approved (if approved in time the position will start this Fall; if not, it will start in Spring). They offered me the classes and made it sound like I'd be a top candidate for the full time position, as well. I'll be speaking with the department's dean early next week to discuss details (e.g., hiring timeline, salary). I know that adjunct pay is really low (much less than what I currently make working online), but I think it'd be negotiable and they certainly seem to need someone ASAP so they're sure motivated to fill the position.
Best case scenario – I may have a couple different job offers to pick from (and use for negotiating purposes) starting this August (the start of the Fall term). That'd be pretty exciting, right?
I guess this is life's way of maintaining balance between the bad and the good. Funny how things work out sometimes… We'll see!
Any good job news in your world recently? Raise? Promotion? New job?