by Ashley
Looking back at some old posts I see that I've had some lofty financial goals. It reminds me of this saying:
"Shoot for the moon. Even if you miss, you'll land among the stars."
(Google says the quote is by Normal Vincent Peale)
Well, I guess I'll have to settle for the stars, because I've missed my moon. But that's okay. Progress is still progress. I just wanted to look back and remind myself of where I've been and where I'm going….
In this post I had listed my goals in terms of debt repayment. You'll notice that my goal date to be rid of our license fees was originally August 2014. August came and went, and we still have those monthly license payments.
In this later post I changed my mind and decided to put my Race to 20K (paying off the car loan) above everything else. At the time I was hoping to pay $3,000/month toward the car loan. Yeah….that hasn't happened either (aside for I think one or two months??)
And recently I've hinted at maybe changing my plan of action again. Re-ordering my debt payoff journey. You guys are right. The APR on some of my student loans is outrageous. Why not knock it out and then turn my attention to the car? In the past few months when I haven't been able to pay $4,000 or $5,000 toward debt it changes the whole payoff schedule. Why not earn some "easy" wins by knocking out some of the smaller debts instead of tackling the comparatively huge car loan that could takes months to pay off?
And then I walk into my kitchen and see my auto loan debt thermometer. And I am absolutely re-energized.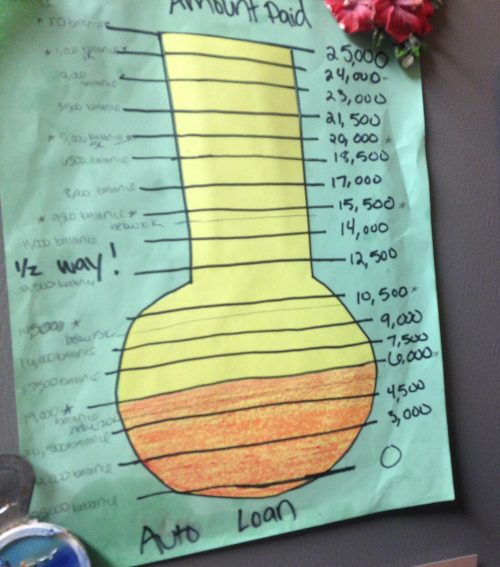 I guess that's the thing about personal finance. It's personal.
No, it doesn't make sense. Any financial guru you talk to will say I'm doing it wrong. Either you'll hear from the Ramsey types who say my car loan is too big and I need to start by tackling a smaller loan. Or you'll talk to a numbers person who will say the APR on my car loan is peanuts in comparison to the student loan APRs, so I should start with the highest APR. No one would say that tackling the car first is the "right" thing to do. Or would they?
Whatever is the most motivating might make the most sense, too. Right?
I mean, I want all of my debt gone. I'm so, so, so sick of it! Having the little financial set-backs this month (with the car repair and house flood) have just reaffirmed how much I hate this debt. It's so burdensome! It's like a noose around the neck that we just can't get rid of! Getting rid of the debt, in so many ways, will feel like earning our freedom back!
But so much of the journey is psychological in nature. And even as I'm doubting myself and thinking, "maybe we should just kill that high interest student loan real quick"….I just keep coming back to my starting place. And I see our car. And I want it to be ours for real.
I know it's not the popular decision. With all my recent payments and hard work recently we are no longer upside down on the loan, either. I know many would say we need to sell it and rid ourselves of the nearly 20 grand (now actually right at 18 grand) of debt in the snap of our fingers. But it's just not that easy.
We love our car (actually an SUV, a 2011 Ford Explorer). With the long road-trips we take we need something large enough to accommodate two car seats, a double stroller, us, our dog, our luggage, and cooler of food/drinks/snacks. That's really not do-able in a car or even a cross-over. A van could work, but it doesn't feel right to make that type of trade. The way I see it, we'd be able to sell our SUV for $20k, buy a reasonable used van for $10k, which leaves us with $10k less debt (and a paid for van). But as soon as we're done paying off other debts we'll go right back to selling the van (plus putting in extra $$) in favor of finding another SUV. Why? Why not just pay it off and own it outright from the start and save ourselves the headache of all the buying and selling and trading of vehicles?
I didn't want to have to put it all out there like this because it sounds like nothing but excuses and rationalizations. I know it will anger some of you. But we'll just have to file this under the "agree to disagree" label and call it the "personal" part of personal finance.
So there you go. The plan remains.
But don't be surprised if I end up wanting to come back to re-visit this again at some point in the future. It never hurts to reassess one's goals, particularly in light of big income changes. Hopefully with all my applications we'll be having another big income change sometime soon….only this time going upward! : )
What debt are you currently working on paying off? What method of debt repayment do you follow (smallest to largest? Highest APR first? Psychological satisfaction?)