by Jim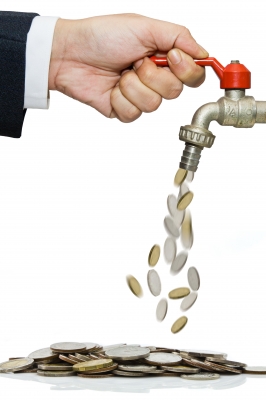 A lot of people expressed that one of the ways they were able to eliminate their debt quickly is by finding ways of saving money and/or making money.  I really took it to heart (even though it appeared as if I didn't), and started thinking of ways I could do more "side hustles."  This month has been pretty good on this aspect.  And even though it isn't much, every little bit helps right?
Before beginning the list on how I made some extra money, I wanted to give an update on the three possible contracts.  Out of the two contracts that looked like they could be winners, I heard back from one of them, and everything seems pretty good… Until the lady said I had to do a "HireVue."  Anyone ever hear of this?  This isn't uncommon for my line of work, since many of the clients are across a few states.  It basically is where I would be interviewed online.  Now usually this means a Skype call with every person in the process which I can usually nail really good,   But the company that I was doing this contract with decided a little bit ago to basically do a video recording where they ask you questions and you speak right to your webcam, with nobody on the other end.  I didn't know what the questions they were going to ask me and had three minutes to answer them.  
Now they did give some practice questions, which I could retake as much as I wanted.  So when I went to the real questions I thought this would be the same way.  Nope!  Had three minutes and no retakes.  Well I think I tanked the HireVue, but I still have some leverage as I worked with this company many times before, so hopefully that will be enough. 
I also had the Skype Interview with the well known marketer that I really want.  I didn't bring much to the table with this one, but as he pointed out that he was only looking for entry level.  So we will see how that goes, he told me by next week he will make a decision.
Anyway here are some of the ways we made extra money this month, not including things that I do regularly for my business.  From here on out, I am considering the Amazon venture part of my business, as it has been proven to me that this is a viable way to make money.
$225 Gas Money from my Buddy.  At the moment I am not sure if I broke even on the gas situation or if I made/lost money.  I will know for certain in a few days when I do my budget analysis.  I am thinking/hoping I came out ahead.  But if I didn't, this was for my best friend, I know he would have done the same for me.
$25 Gas Card from Client.  A little bit ago I got a phone call from a distraught newspaper client.  For the past few years, since I have been delivering their paper I been throwing their paper in their yard.  They trained their dog to get their paper.  Well it turns out their dog died.  I really felt bad and sent them a card, stating I was sorry for their loss.  Now I didn't do this for any type of benefit, just knew that losing a dog is like losing a child.  Well the card meant a lot to them, and I was left a $25 gift card to my local gas station.
$70 Tips (plus a box of chocolate) from Clients.  I get many cards and tips throughout the year from different clients, stating that I am the best carrier.  And even though this is just me delivering things to people on a very regular basis, I do it to the best of my ability.  This money will be put in my emergency fund.
$86.85 Total Amount of Commissions my wife made from her Younique Business.  If you read my Author Box, it states that I am trying to get her direct sales business off the ground.  It is a little hard when we have so little money to get her the stuff she needs to do a vendor show.  Another drawback is that the makeup she sells is a little expensive for our neighborhood, so she mostly is trying to gain traction in a cold market.  It is starting to see some success, and she was promoted to the next level in her business.  This money will stay on the card that we got for the business and it will be reinvested back into the business.
$65 Affiliate Sales from People.  At the beginning of the month I offered up a service to my wife's teammates, where I would set up a domain and blog for them for free.  I informed them that the hosting companies they chose paid me a commission for sending them a client, so that was how I was getting paid.  There was an up sell to this that I would design the blog for cheap as well.  Now this $65 I won't receive till I break $100 threshold, which is just one more client, plus they pay the next month.  So if I get another client in the next few days, I would get paid middle of next month, if not the amount rolls over and I get it the following month.
$50 Doll Selling to a Friend.  I mentioned in a previous post that my daughter really doesn't play with anything.  Well one thing she loves is Monster High (she has had two birthday parties of this theme.)  Well she wants everything Monster High, and with that we started collecting all the dolls.  She has almost every doll opened.  And just like Barbies there is many different versions of the same doll.  We have about a dozen or two unopened.  I sold five dolls!  This money will also go into funding the emergency fund.
Well that's about it.  Later today I will go over my debt payoff, be on the lookout!