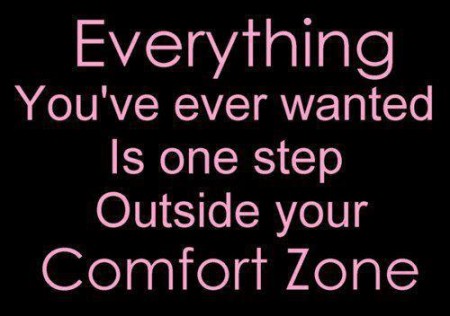 It's that time of year when you have probably created a list of resolutions that you hope to complete in the following year. While there are a large number of financial resolutions that you can make, one that you probably don't have on your list (or have even considered) is going outside your financial comfort zone.
Most people only venture out of their financial comfort zone when they have to. This usually comes about because some situation completely outside their control forces them to make drastic changes that they would have otherwise never attempted. I know this all to well. I was forced to make some large sacrifices which I would have never done on my own, and which took me well outside of my comfort zone when I found out that my fiance was in $80,000 of credit card debt. It sucked. I hated it, but the sacrifices needed to be done. That is exactly the way that most people leave their comfort zone, with me being no exception.
Here is a question to ponder. What if you purposely set up situations which took you outside your normal financial comfort zone? This was something that I had been doing more and more frequently when I would make bets with my sister. These bets almost always had me doing something outside my comfort zone. Sometime they were things which had absolutely nothing to do about money, but other times they did. A good example was when I tried to eat well on a dollar a day for 100 days. I chose to purposely do the challenge, and in the end going far outside my normal comfort zone paid off in numerous ways; the biggest being that I now have complete confidence that no matter how little money I have, I will always be able to feed myself without worry.
What I have recently started to learn is that the time to leave your comfort zone isn't when you are forced, but when things are going well. Why? Because when you leave your comfort zone when things are not in a dire situation, you give yourself the chance to make mistakes and learn when those mistakes won't cause nearly as much harm.
There really isn't a need to make a huge step outside your comfort zone (although the farther away you are willing to step outside this zone, the bigger impact it can make on your life and the more you are likely to take away from it), but you should always be pushing at the edges so that your comfort zone becomes bigger and bigger. It can be something as simple as doing a no spend day challenge or as large as trying to live well on a minimum wage salary for a year. Big or small, taking the time to conscientiously move outside your normal financial comfort zone will help your finances in many ways you never anticipated.
I'm sure that making a resolution to do things outside your comfort zone may seem like a weird type of money resolution to make, but I think that if you do so, you'll be pleasantly surprised at how beneficial it can be, and how much more you're able to accomplish than you ever thought possible. So as you begin to lay out your financial plans and strategies for 2013, I encourage you to make sure that some of the things that you do purposely take you outside your financial comfort zone. I will be there pushing my own comfort zone right there with you.
What are some of the financial challenges that you hope to tackle and address in the coming year?
If you are looking for other quality financial blogs to follow, here is a great opportunity to do so with the chance to win $100 as a bonus. This is part of our ongoing financial giveaway series. Feel free to follow any of the participating blogs, or simply comment to have an opportunity to win. It costs nothing and your chances are a lot better than entering a lottery
a Rafflecopter giveaway