by Beks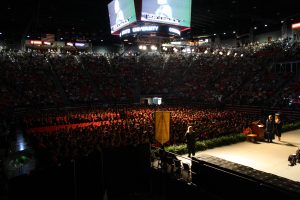 After all the time, the dedication, and… the MONEY, he did it. My husband finished his degree.
Well, OK, so he still has two summer school classes to take but since he will finish this summer, they let him walk at the ceremony this weekend.
I've been so busy with work and obsessive house cleaning (aka fanatical nesting), I haven't had time to enjoy the moment. On the morning of the graduation, I woke up at 5am, made a batch of cinnamon rolls, cleaned the bathroom… again, got ready, and left for the ceremony. I chatted with my parents before the ceremony and promptly at 8am, the lights went off and Pomp and Circumstance filled the air.
Suddenly, the waterworks started. I couldn't control my darn crying.
Fortunately, being just over 7 months pregnant, I can get away with almost anything… including crying at graduation ceremonies. The reality is, I'm so proud of my husband, I would have cried anyway – baby or no baby.
My saving grace was my mother. She'd randomly start clapping for graduates we didn't know. Thinking she was being supportive of students whose parents weren't there, I was warmed by her sweet thoughts… until she let me know her REAL reason for applause. "I'm clapping for all the girls with cute shoes" she said in a very serious tone.
Hmmm… and people think I'M the weird one.
We celebrated with one heck of a graduation party at our home with friends and family.
It was a really, really great weekend.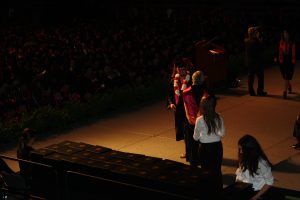 There he is!