by Tricia
Here's my income and expense report for December. There's also a column for 2006 as well as a percentage of expenses. My comments are below the report.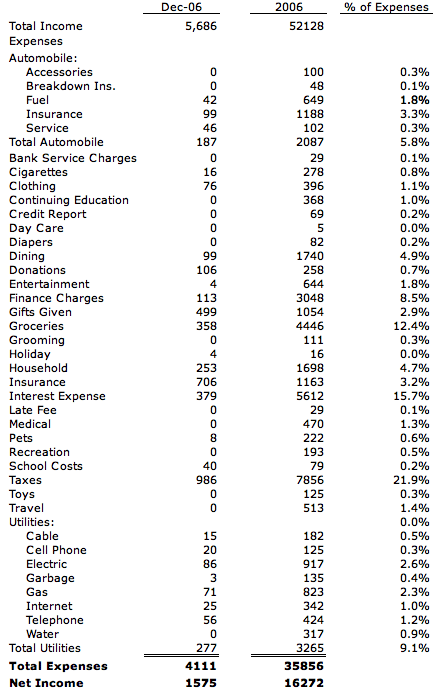 INCOME:Our earned income last year was a little over $48,000 but with my reports I include tax returns, gifts and gift certificates received as income so the final number for 2006 is $52,128. Our December income was very nice, but it was so high due to me receiving 3 paychecks in December when every other month I only received two (my employer closed December early on their books give me the extra paycheck. In January, I will only have one).
AUTOMOBILE: It's a little surprising to me to see that our car makes up 5.8% of our expenses. I didn't think it would be that high – and that doesn't even include car payments. Our insurance is still at full coverage and it may be time to reduce the coverage on our car. It is now fully paid off and it's worth about $5,000.
CIGARETTES: I'm surprised everyone doesn't bother me about this one more. I know a few of you have, and I appreciate it. As far as smoking goes, I do want to quit but I am not ready. My mom knows about this blog and we were discussing quitting smoking. She told me that when I am ready to do it that I will be able to. I know she's right. I have to light that spark inside of me that says, "You know what, I'm not smoking anymore" and quit. I will talk more about quitting soon.
CLOTHING: I think we spent more on clothes this year then we have in a very long time. I think a lot of it has to do with our older clothes finally wearing out. Me, I'm down to two pairs of jeans right now and those were bought new this year.
CONTINUING EDUCATION: It was hard to spend money on this, but once I further my education I can receive a raise at work.
CREDIT REPORT: I have an annual subscription to a service that monitors my credit report. I may or may not cancel come renewal time, I'm not sure.
DAY CARE: You are reading the report right. We paid $5 for daycare in 2006. A friend's daughter came by and entertained my son for a few hours so I could work. Because my husband and I work opposite shifts, we save TONS of money here.
DIAPERS: Thankfully, we will not have this expense in 2007. Well, unless the stork decides to visit us 🙂
DINING: I can't say much about dining except thank goodness we are Burger King/McDonalds/Subway people. If we actually went out and dined at nicer places we would be looking at twice the amount here. I'm not happy that it amounts to almost 5% of our spending for 2006.
DONATIONS: I didn't end up giving a lot in 2006, but I did give some money to Modest Needs last month and I shopped for Toys for Tots toys. I love doing that.
ENTERTAINMENT: This category includes movie rentals, movies purchased, video games, board games, musical instruments, newspapers and magazines. By far, the biggest purchase was my bass guitar and Guitar Hero for our Playstation. Next year, I am sure this category will be lower.
FINANCE CHARGES: The cost of my credit cards…over 3 grand for 2006. Yuk. It will be a fact of life until I get lower rates or pay off the cards.
GIFTS GIVEN: What can I say? I like giving gifts. I used to be more creative/crafty, but I think I've lost my touch.
GROOMING: Since I'm very low maintenance, there isn't a lot of spending here. This is where we put razors, shampoo, deodorant, etc. For these types of things, I stock up when the price is right. I think I have enough body soap to last a year 😉
HOUSEHOLD: You can't see it on the report here, but the biggest contributors to this category are appliances (we bought a new stove, fryer and a blender $675), my elliptical (at $140) and kitchen goodies ($263). The rest is made up of disposable goods, small electronics, furniture, batteries, etc. I am pretty proud here because we only spend $30.28 for 2006 on what you would consider decorative items. With that amount we purchased a calendar, a slip cover for our old couch, two curtains for our kitchen and a few candles.
INSURANCE: Insurance includes life, home and health. This expense will increase dramatically for next year since this year only shows two months of health insurance.
INTEREST EXPENSE: Again, the cost of debt. The money here is the interest paid for our mortgage, school loans and car loan (which the car was paid off in September :))
RECREATION: Recreation has to do with things outdoors. We purchased two inflatable kayaks in 2006 and we also buy fishing licenses. I anticipate that this expense will be lower next year.
SCHOOL COSTS: These are costs specific to my son going to school, like his school lunch and supplies he is required to have.
TAXES: This fun category has to do with everything tax-related. Property, income, sales, etc. I hope I get some of it back come spring 🙂
TOYS: This one gauges how spoiled my son is. As an only child, he is spoiled. We will be reducing spending on toys for 2007.
TRAVEL: We went on one trip this year to visit family (where we live we do not have family around us). For 2007, we probably will take two trips. One work-related and one to visit our families again.
UTILITIES: I know there is wiggle room with our utilities, and I am going to try to get them lower. Not only will we save money, we will reduce our consumption. The other day I was able to lower my monthly telephone bill by $4 so I am excited. We also purchased a digital thermostat so we can program the heat in our home.
OVERALL THOUGHTS: My little guy is still sick, and I think Mom's catching what he has. I'll try to write more on my overall thoughs and my game plan to reduce spending tomorrow.
Thank you everyone who sent well wishes for my son 🙂