by Ashley
Does your family celebrate Easter?
If so, I've got a fun little craft to share and it's not too late for you to join in the fun with your kiddos!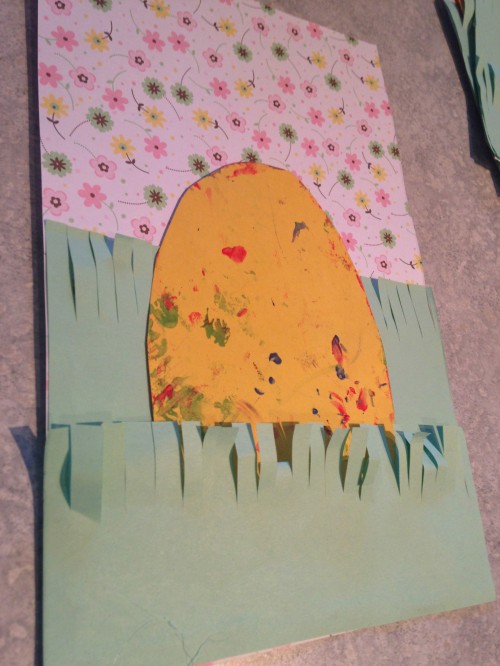 Since we don't live close to any family, it has been very important to me to make conscious efforts to stay connected to our out-of-town relatives. Part of this is including them in our kids' lives in big ways (trips to see each other) and small (sharing pictures/crafts/etc.). I'm thankful for technology that allows us to send emails with pictures, FaceTime on the phone, and stay connected that way. But sometimes nothing beats a good, old fashioned card in the mail. Add a personal touch (a child's creativity), and you've got something special. Even better – its a Cheap (or Free, if you have the supplies) activity you can do together with your kids!
Step 1:  Buy Envelopes
My first step was to buy envelopes. Last time I did a kid craft that I had planned to mail to family (around Christmas time), I made the craft too large and had to buy special, large envelopes and pay extra for postage. Doh! This time the FIRST thing I did was go to the envelope aisle at the grocery store and find a box of envelopes. I paid $4.50 for a box of 50 envelopes. They're pastel colors (10 each of 5 different colors), and larger than regular envelopes, but still only require "normal" postage.
Step 2: Raid Your Craft-Supplies
Aside from the envelopes and postage, I didn't want to pay anything for these crafts so that meant using stuff we already had on-hand. I dug out some crayons and Crayola kid-paint from the girls' closet (I've had these supplies for a long time), then I went to my scrapbooking box (I've scrapbooked for years and have a huge supply of card stock) to pick out the papers. I selected solid yellow, green, and purple paper, and pretty Spring-themed paper. Then I was on my way!
Step 3:  Let the Kiddos Get Busy (While YOU get busy, too!)
First, I cut the solid yellow papers into egg-shapes. I stripped my kiddos down to their diapers (learned this one the hard way when the "washable" kid paint stained my girls' clothes during a previous crafting session) and put big bibs on them. Then I let them sit at the table and offered a variety of options:  various colored paint and crayons. I would've loved to use Spring-colored paint (pastels), but the paint we had on-hand was "normal" (red, blue, green), so that would have to do.
For the record – I drew the squiggly lines on the eggs. The girls much preferred the paint (though they liked using the crayons as paint-brushes! Perhaps I need to put some "real" paint brushes on the 30 Day Want List??)
While they painted, I cut the Spring-themed card stock down to size so it would fit in my envelopes. It was basically like a half-sheet of card stock (if you fold in half like a hamburger, not a hot dog). I also cut the solid green card stock down to size and cut small slits in the top to mimic the look of "grass."
Step 4:  Assembly
We had a break while the paint dried on the Easter-eggs (during which time I was giving the girls a bath), then it was their nap time. Perfect time for some adult assembly! I have a mini-glue gun (believe I bought it from Dollar Tree) and I used that to glue the grass onto the card stock. I only glued along the sides and bottom of the grass because I wanted the top to be open, creating a little "pocket" in the grass. With the solid purple card stock, I cut those down (I got 4 purple cards out of each piece of paper) and glued to the back of the Spring card. At this point, things were looking like so…
If I were really being meticulous, I would have covered the entire back of the Spring paper so you couldn't see the grid lines. But by this point I was over it and ain't nobody got time for that! Plus, this is a card for family, not a fine art project for a grade or some prize. Family is going to love it regardless.
I was trying to play up the "Easter" theme, so instead of writing "Happy" Easter, I wrote "Hoppy" Easter. Har har har. I also added a little personal message to the specific person the card was intended for.
Next I wrote on the "back" side of the eggs (I say "back" in quotations because the girls really ended up painting BOTH sides, so….yeah.) It's silly and cheesy, but I wanted to think of a saying that had 3 elements:  Something to do with Easter, some type of play on the word "egg" (egg-cellent), and something to do with an easter egg hunt/find/search. I did some brainstorming and the best I could come up with was, "This Easter we hope you'll find……YOURSELF, having an egg-cellent time!" – Hey, I never claimed to be a poet!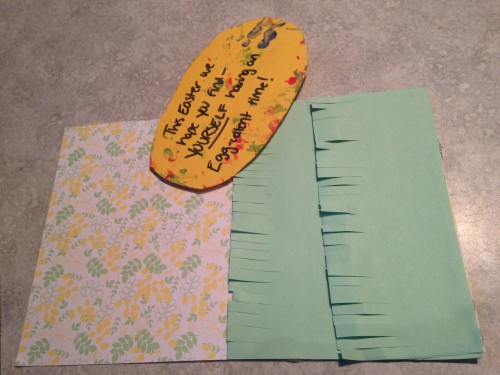 Then I tucked the egg into the envelope, and voila!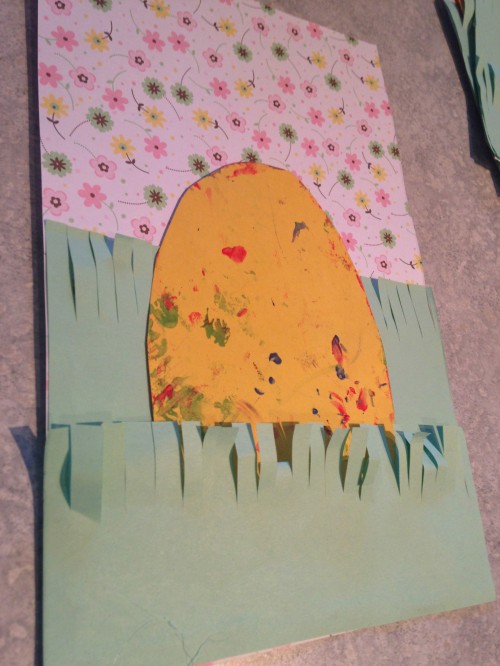 Step 5:  Add pictures and mail!
Okay, so I guess I lied because I did pay for one additional thing…
I forced coerced the girls into a little "modeling" session while wearing some big bunny ears their Mamaw sent them. I found a coupon code online for printing photos at Walgreens for .15 cents per print, so I printed up enough of these pictures to stuff one in each envelope.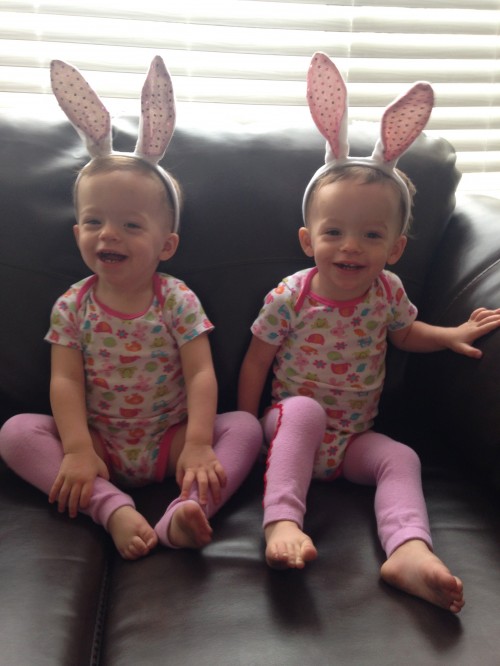 Clearly I'm no photographer either. But at least I try!
Then I addressed them, added postage, and mailed out!
Easy-peasy and I'm sure our family will love and appreciate the homemade craft and new photo of the girls! We don't get to see each other nearly enough and they grow FAST at this age! They'll be two in just a couple of months! (tear!)
So there you have it!
Whether you want to make this as a card to give to family, or just let your kids have some fun crafting, I'm sure it will be a hit!
Have a great weekend!