by Hope
I mentioned a week or so ago that I had completed my Christmas shopping for my immediate family in Texas. Everything I bought is handmade and mostly upcycled out of recycled materials. I am thrilled with my finds. I just picked up the items for my brothers today and wanted to share this really neat idea with you.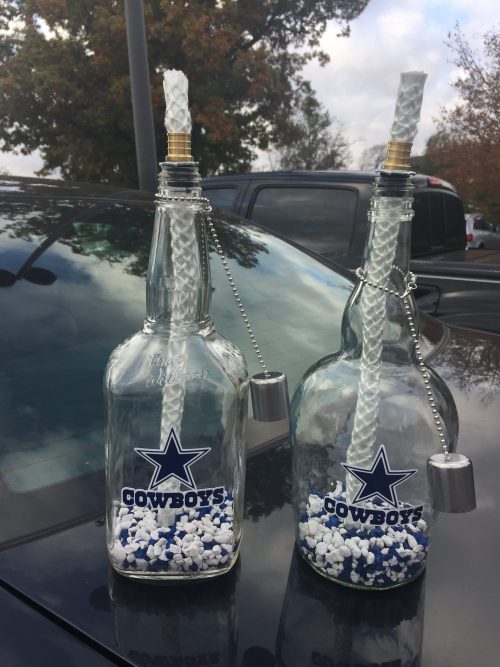 These Tiki Torch/Bug Repellant bottles were made for me by Susanne at Upcycled Inspirations. She lives on the lake and they fill these with Citronella to keeps the bugs away when they are out on their dock or deck by the water.
The Perfect Gift
While my brothers don't live on the water, they LOVE the Cowboys football team and are definitely outdoorsy kind of dudes. I thought this would be perfect AND they are made from upcycled liquor bottles that Susanne collects from neighbors, restaurants and wherever else she can find them (can you say dumpster diving – my words, not hers.) How cool is this idea? And how affordable since probably most of know someone that could provide some bottles.
I love DIY presents, and this would be a great one to do for those outdoor living people in your life. And if you are like me and don't have the time or desire to gather the supplies and put them together…well, you can hit up Susanne and she will take care of you.  She loaded some images of the other cool stuff she does on her Facebook page.
I do not know Susanne personally, I just met her at a craft fair downtown in our tiny town a couple of weeks ago. I am not receiving any kick back for this post (although I wouldn't turn it down.) I just wanted to let you know about this cool DIY present and give credit where credit was due.