by Ashley
Hi friends! Happy Monday!
Before we dive into the budget update from October, I wanted to share a picture of the famed wedding cake (discussed here) which I spent 9 hours of my life working on! Pretty impressive, right??
The skull bride and groom, as a fun nod to the fact that they married on Halloween. The bride bought the flowers pre-made from a baker (they're made from sugar) and the cake is 100% us! She did each tier with a  different filling. The bottom was raspberry, the middle was lemon, and the top was coconut. The icing was a homemade vanilla and all was decorated with freshly shaved coconut. I can't take much credit because the recipe and directions were all the bride's. I simply helped where I could. Fun girl-bonding activity!
Now, onto the budget….
For your reference, here's where I wrote about my planned October budget.
And, below, here's what we actually spent compared to the planned budget:
| | | |
| --- | --- | --- |
| Place | Planned Budget | Actual Spent |
| Rent | 1055 | 1055 |
| Electricity | 241 | 241 |
| Water | 65 | 63 |
| Natural gas | 17 | 17 |
| Sprint (2 lines) | 114 | 114 |
| Cable/Internet | 100 | 100 |
| Car Insurance | 55 | 56 |
| Health Insurance | 350 | 350 |
| Trash | 35 | 35 |
| Debt | 1843 | 1752 |
| Miscellaneous | 300 | 412 |
| Groceries | 400 | 408 |
| Baby Purchases | 1200 | 1149 |
| Gasoline | 125 | 113 |
| Saving for Irregular Expenses | 495 | 495 |
| Total Budgeted | 6395 | 6360 |
Some things to note:
I had to make a lower debt payment to accommodate the overage in my miscellaneous spending. As a reminder, miscellaneous is broken down into 4 categories:
Entertainment: budgeted = $20; spent = $20
Eating out: budgeted = $100; spent = $109
Personal maintenance: budgeted = $30; spent = $0
Other: budgeted = $150; spent $283
My overage was mostly due to wedding-related items and, admittedly, a boss's day gift I never mentioned here. A small minority was spent on necessities ($23 for new checks and $28 for cleaning supplies). The rest was split between some flowers I sent to my incredible boss at University A (the university where I teach online), a wedding gift, and other wedding "supplies" (I bought stuff for mimosas for the girls to enjoy pre-wedding, and I ended up footing the bill for some sandwiches pre-wedding as well).
I could have saved 50 bucks by not sending my boss flowers. During these lean times, that's probably what I should have done. But I am really so incredibly grateful to my boss for connecting me with this position and I feel like I've really been blessed through this employment situation. It felt like a small token of my appreciation and one that I was happy to give. I guess the whole "gift-giving" thing opens up a can of worms. Throughout my debt reduction journey thus far I've been really good with scaling WAY back on the amount of giving I've done (and the dollar amount I would spend per gift) and I just didn't hold back on this one. I'm conflicted because – on one hand I know I can't afford $50 for flowers. On the other hand, it felt like an appropriate gift at the time and a small portion of my monthly salary. Plus I just got a raise. These are all justifications, I know, but I'm just trying to dig myself out of a hole a bit.
There's really no other category of spending that is out of line with the original budget, so nothing more to comment on.
You'll notice that I only ended up spending $6360, which leaves me with some surplus (Note: Remember that although I had only budgeted for $6395, I actually had $6410 to spend for the month – see here).
Since we live on last month's income and we had $6410 for the month, I was left with an extra $50.
Rather than putting that extra $50 toward an additional debt payment at the end of the month, I decided to add it to our income to increase the amount we have to work with in November (foreshadowing……the $50 is going to be NEEDED for next month! Welp!). I'll be back later with more on our planned November budget.
And one last parting photo of me and my girls at the family reception that was held on Saturday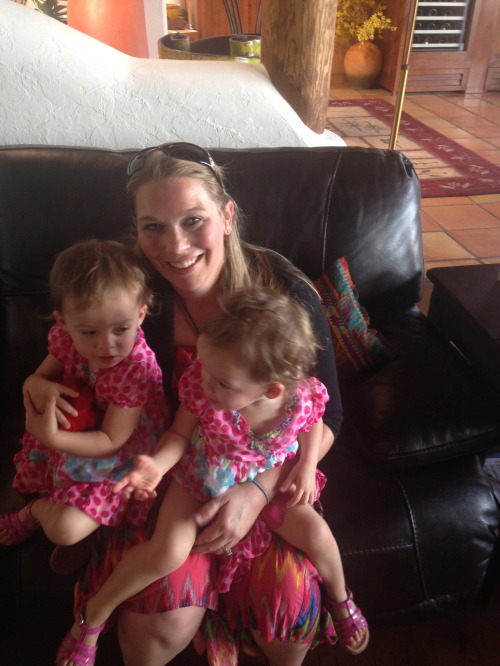 In case anyone is curious, the girls' dresses were a gift from their aunt and the clothes I wore (both for the wedding on Friday and the family reception on Saturday) were dresses that I'd already owned. Didn't buy a single article of clothing for the event!