by Ashley
Just to piggyback on my earlier post….
What do you guys think about this?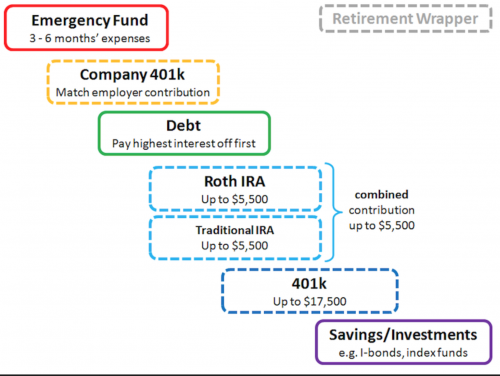 Image from this article.
Apparently the image was originally from a poster on Reddit, who advocated a minimum 3-6 months of savings in an EF as well as a steady 401(k) contribution (up to employer match) prior to tackling debt.
It seems to me based on some recent conversations (occurring inside the comments sections of a few posts), that this is the approach advocated by some of our readers.
Of course, for any Ramsey followers (who, admittedly, is one of the first people to get me into personal finance, although I don't blindly follow all his teachings; I pick and choose what works for me), this is drastically different than what is recommended. Ramsey's Baby Steps  advocate (#1) starting with a $1,000 beginner emergency fund. His argument is that most unexpected emergencies are about $1,000 or less, so that should be an adequate fund for most people. In my own debt-reduction experience, we've had a handful of emergencies (e.g., emergency root canal, emergency car repairs). All of our emergencies except one have been under $1,000. And the one time we had to raid our EF for over $1,000 was this past August. It was not actually due to any large emergency expense, but due to a lack of income! I don't get paid in August (just due to normal schedule of payment) and hubs ended up having a no-income month that month (he has a variable income). So, really, I would consider this more of a factor related to variable income rather than due to an emergency, per se.
Ramsey's next baby step (#2) is to pay off all debt but a mortgage, followed by (#3) going back and re-stocking the EF up to 3-6 months expense.
Obviously a very different approach, right?
What other factors do you think are important?
I think for single people, people without kids, people with low monthly expenses, renters, and people with steady/predictable income a lower EF might be sufficient. I also think it depends on the size of the debt (e.g., will it take 3 months to pay off or 3 years to pay off? I'm more likely to be "ok" with a smaller EF for a short period of time rather than a long one).
I've also seen some arguments over what debt should be considered high versus low priority. Some people are okay with student loans and car loans hanging around for awhile, though almost everyone is in agreement that credit card debt should be tackled quickly!  I'm of the mind that I want ALL my debt gone. That being said, I've still prioritized my debt such that I have paid/plan to pay: (1) credit cards, (2) car, (3) student loans (4) medical bills. To me, our medical debt that has no interest is way less burdensome than my student loans (mostly at 6.5% interest), even though the overall amount of the student loan debt is significantly larger than the medical debt.
Those are just my thoughts.
How have you prioritized debt repayment savings? And, among your various forms of debt, how have you ordered or prioritized which debt to pay first? Do you do the snowball method (smallest debt first), avalanche method (highest interest first), or some other arrangement (such as the most personally satisfying)?
Personal finance is just that – personal. So I don't think there's one "right" or "wrong" answer and I think there are multiple different routes to the same end-goal (being DEBT FREE with a good financial security net). Just curious about your thoughts on the matter!