by Beks
We have a linen closet at the end of our hallway. I tried to keep it organized but every time I reached for something, I knocked a bottle of shampoo over or hit a bottle of hairspray. After a while, I just threw things in and slammed the door before something fell out.
Um, this is what it looked like. Please don't tell my mother.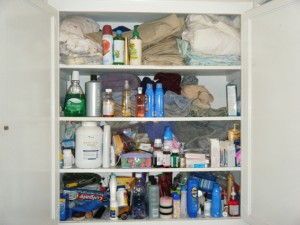 I didn't realize this disorganization was costing me money until I decided to spend $20 on little clear boxes from Walmart and organize the closet over the three day weekend.
I found, among many other things, two thermometers (last time I checked, I only need one), 6 boxes of daytime cold medicine (4 expired), 4 boxes of Benadryl (3 expired), 3 bottles of pain reliever (1 expired).
My disorganization has made many pharmaceutical companies very happy. Last time I checked, I need the money far more than they do.
No more. Here's the closet now.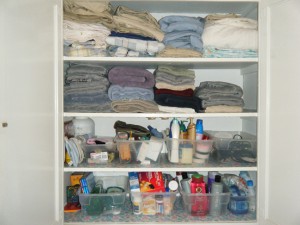 Please make me feel better. Misery loves company. Tell me you have a messy, wasteful closet too.