by Ashley
It's been a long time since I've posted a money-saving tip, but they're still a big part of my life! When I first started blogging, I posted little things we did to save money all the time. Here are some examples (and for the record, I still do ALL of these things….with the exception of the homemade baby wipes since the kids have now outgrown diapers!!!):
Today I've got a different kind of tip. Instead of a DIY product or finding a way to make something myself, I'm sharing a way we stretch every last drop of a store-bought product.
You know when you get to the very end of your lotion and there's simply no more that will come through the spout? That doesn't actually mean the lotion is gone! No, no, no! On the contrary, there's still a TON of lotion leftover inside the bottle! It's just stuck to the side walls of the lotion container so it's not being sucked up through the spout. But you can stretch your lotion another good week or so by cutting the bottle right in half and accessing the lotion that way!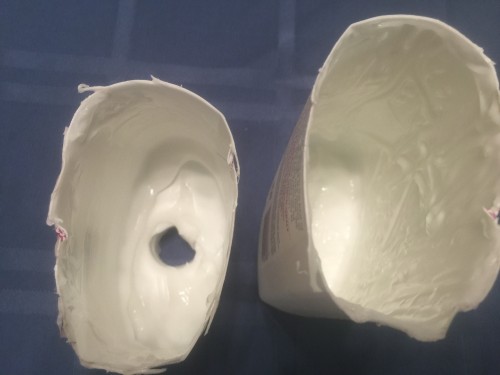 Look at all that lotion goop still stuck to the inside of the bottle! Pro tip: once you cut your bottle in half, the remaining lotion will dry out quickly! Extend the life of your lotion by putting a simple plastic baggie (or saran wrap) over the top to keep it fresh. Seriously – another week worth of lotion in there!
I know some of these tips seem a bit silly or extreme, and they definitely are! But all the little things really do add up! Even as we've started loosening our purse strings a bit this year (monthly date nights and plans to buy a house!!!), we're still mindful to be frugal in other areas.
How do you like to save money around the house? Do you have any DIY or make-it-yourself money-saving tips to share?