by Beks
Because of the whole 'family week' thing I've got going, I thought it might be an appropriate time to update you on my family.
Baby boy is 2 1/2 months old now and so darn adorable.
We went to his 8 week check-up and my husband, all 5′ 10″ of him if he stands straight and eats his Wheaties, swore 'his boy' would be in the 75th percentile in height and the 50th percentile in weight (50th percentile is the size of an average child).
Baby boy is in the 30th percentile for height…
and the 65th percentile for weight.
So I thought this photo of him was fitting.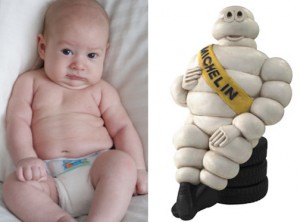 Overall, I can't express how much I enjoy being a mom. Every moment is special – even the ones involving projectile poop. It's so much better than I ever expected.
This week is the last week with him though. I'm heading back to work next week… and I've been crying since Tuesday.
Sigh.