by Ashley
Today was officially my kids' last day of preschool!!!!!! Starting in the "Fall" (which is August 2nd in these parts), they'll be KINDERGARTNERS!!! I can't even believe it! I want to cry from happiness AND sadness all at once! How is it even possible!?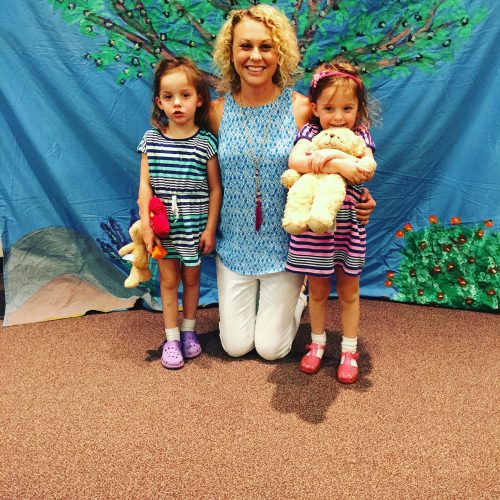 B and B with their teacher on the last day of school! Instead of a traditional "graduation" ceremony, they had what they call a "Teddy Bear Picnic" where parents got to come have a picnic lunch with the kiddos and their favorite stuffed animals. Nontraditional, but still really cute and fun!
The past couple summers have presented some big challenges in terms of childcare. Full-time summer care for young ones in my area tends to be exorbitant! I'm talking nearly triple what we pay during the academic year. There are some cheaper camp options, but I talked a little last year about how those weren't the best option for us because it would be one week here, one week there, all over the place and it wasn't a good fit with our kid's shy and timid personalities on a full-time basis (plus, many of those camps were only 4-5 hours/day).
This year, we have a much different approach to things. For one, their dad will be around a lot more. For any new readers, their dad recently scaled back his business so he could return to school full-time. Over summer, though, he'll be picking up a large portion of the childcare. At the same time, it would be great if he can make a little more money, too! So he'll also be trying to work a bit more while still ultimately maintaining childcare as his #1 "job" for summer. The girls are also going to be taking a couple of camps! Although I still maintain that a different camp every week would NOT be ideal for our kids (every kid is different and I know some kids love trying lots of new camps, but I know our kids and they just would not thrive in that situation), I do think that they'll benefit from dipping their toes into the camp scene. We've got them signed up for one week-long day camp in June and one week-long day camp in July. So they'll still have a lot of stability (home the majority of summer), but will get to try a couple of fun new things (gymnastics camp in June, karate camp in July).
I'll still be working all summer, but I also have a bit more flexibility in my schedule, too, so I'll be more able to be around with the girls if hubs picks up an odd job, etc. So between hubs, myself, and the couple of camps, we should be good to go. The really exciting thing is that we should end up SAVING money since we'll be using so much LESS childcare than the past couple summers. With hubs at home, we don't need the full-time care we've always required in the past. Only paying for a couple of camps will be a drop in the bucket compared to our normal childcare costs. It's been awhile since my last full budget post, but on average we pay approximately $1,100/month for childcare (that's for 2 kids in preschool full-time). In contrast, we'll be paying under $300 per camp this summer (for both kids). So we're talking under $600 for childcare costs ALL SUMMER! Wooo! Can't argue with that! I'm pretty pumped about the savings, particularly given that these summer months are still pretty tight on the income side of things.
For those of you with kiddos, I hope you're enjoying a smooth and easy entrance into summer!
What do you do with your littles during summer? Stay home with them? Send them to camp? Babysitter? Something else?