by Ashley
Christmas came early this year!
Look what hubs surprised me with….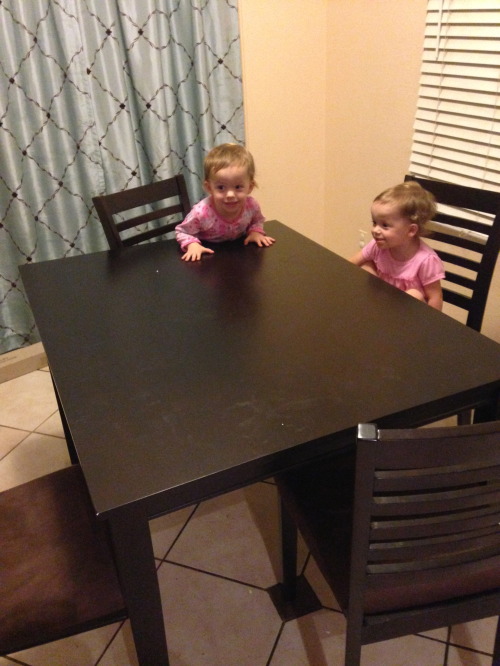 Yay!!! A kitchen table!!! Wahoo!!!! For those of you following along, I've been wanting a new/new-to-us kitchen table for a long time now (I first mentioned it on the blog way back in August – see here)
Things just weren't working out to make that happen though. First, our income dropped right around that time. Second, I couldn't find one for free (I've been diligently watching freecyle and posting ads there for months). Third, I couldn't find a decent used one on craigslist that fit into our budget.
And so we continued to just make do with what we had (which was a high top cocktail-style table with 2 chairs for hubs and I, and a separate child-sized plastic table for the girls. The girls had grown tired of the arrangement and were not thrilled to have to eat by themselves (sad face). But then a couple weeks ago hubs surprised me! I came home to a new table and chairs that accommodates our whole family! He was able to find a floor model on sale for $100 (including chairs). It would have cost more for delivery, but he was able to throw it in the back of the truck and transport home for free. Win!!
Plus, look how happy the girls are to get to sit at the same table with Mom and Dad and all eat together!!!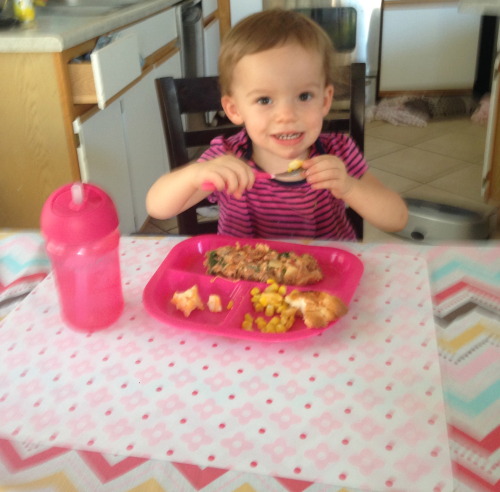 Priceless!