by Hope
I have gotten a lot of comments about homeschooling on this blog, and I wanted to drop in and show you what our homeschooling looks like today.  This morning Sea Cadet embarked on a field trip to the zoo with a bunch of his buddies and a mom chaperone.  As we were leaving our apartment we noted a shipment of something in HUGE boxes.
As I am returning from dropping him off, those same boxes were there but empty.  I pulled over and asked the maintenance man "could we have some of those boxes?"  He knew where I was going…."when I was a kid, I could have done so much with these boxes," and he told me to take how ever many we wanted.
I rushed back to the apartment, got the littles and we ran down to get boxes.  They picked out three HUGE boxes and we pushed them down the road to our apartment where they barely fit through the door.  I turned to the kids and said, this is your schoolwork today….build something, decorate it and enjoy!  They were thrilled and immediately sat down with pen and paper to plan.
Here they are in progress with two of their HUGE boxes….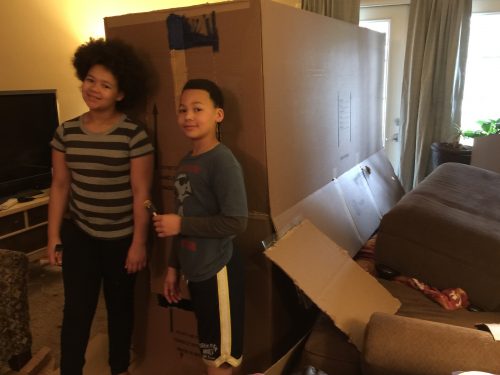 Once they are done we are going to discuss Hoovervilles and the Great Depression, I don't think it's a lesson they are likely to forget.
The only thing that would have made this better would be to be able to do it outside, but alas the weather is not cooperating, so as you can see, our entire living room is now Hooverville!
And just for the record, this school day cost us nothing…well, except the art supplies and packing tape they are using which we have had forever. So I chalk this up to a financial win and will be a great school lesson!
Oh, I've got to go, I'm being summoned…evidently, they are trying to figure out a light source for their cardboard building.