by Elizabeth S.
Hello from my dogsitting gig!

Huge budget update
This post comes with a bit of anxiety and regret. The paycheck landed Friday, and with it, a couple of surprises. It turns out that I was paid $2400 instead of $2193, and will be for the rest of the year. That's because my CPP (Canadian Pension Plan, a federal pension program) and EI (Employment Insurance or what Americans would call Unemployment) are paid out for the year. But that's not it…. I'm bracing myself here. I set aside money for rent on my check, and then realized a few hours later that I will be getting paid again August 30th. That's right, this is an elusive three paycheck month.
If I wasn't blogging about finance, I'd be thrilled with what I did. I sent $500 to emergency savings and $400 to credit card debt immediately. I've now done the first step of Dave Ramsey's 7 Baby Steps! I have a little over $1000 saved in my emergency fund, as well as the boarder staying at my house and the dogsitting gig. I am unexpectedly kind of flush with cash. But the problem is I haven't cut my spending. I am still spending quite a bit on going out and groceries. It's funny, looking back on 2019, I didn't go out much at all until June. It might have something to do with summer, or pulling myself out of an emotional slump after my relationship woes, or…who knows. But I can't make excuses for it.
Spending, in images
Here is an overview of my spending so far:
Food spending is off the rails (I've since corrected the dog food item to be 24.93 per the receipt below).
Here is an example receipt. It includes some items I don't normally buy, such as food for my pet sitter and prepared dog food because I didn't have time to get the raw food together this week. It also includes paper towel, toilet paper, and BBQ lighters. I didn't break out the items into separate categories, which might be messing with my numbers. Walmart Supercentre usually has items from 4-5 of my budget categories! I only have pet food, pet sitter, and groceries broken out so far, but should further break out household items.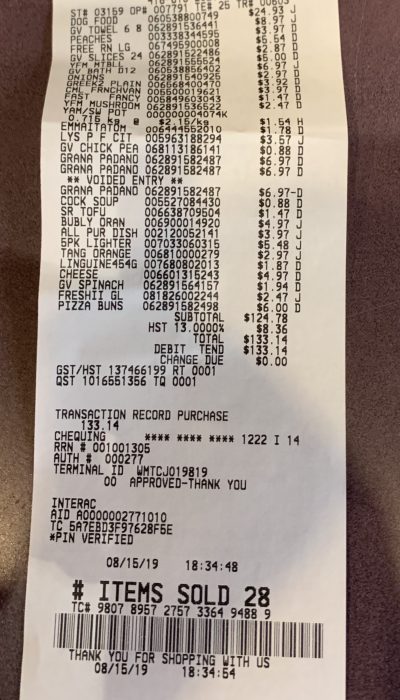 Here is a line item I didn't budget for, but might help me down the road:

I signed up for a relay race in November. This fee includes entry, a long sleeve pullover sweater, and running gloves.
I've been thinking long and hard about my spending weaknesses. I'm spending way too much on food and going out this summer, more than I do ordinarily. I also haven't been participating in my running club, which is completely free and probably the best thing I do with my spare time (for fitness, mental health, and really positive friendships). I've probably gained weight, but I haven't weighed myself in a year so it's hard to say. I wear mostly dresses and haven't tried on fitted pants since spring. Oof, I don't even want to think about that.
Health confessions
The reason I stopped running is that I had toe surgery a few months back for an injury I received in a triathlon bike crash in 2016. In addition, I have surgery coming up for a glomus tumor in my finger (second time around – I had this removed on June 2017, but they didn't get it all). I have no long term health issues and don't take any medication, but I am very active and hard on my body and end up injured about once a year. My surgeon suggested the glomus tumor could have been from trauma, and I definitely have banged my hand up enough times from sports.
I sort of put off run club pending healing, but there's no point in waiting for my finger surgery. It's painful, but not as excruciating as it is in winter (the glomus body regulates temperature in the hand, and cold weather is debilitating for me. Think shooting nerve pain you can't think or see through). I could have seen a surgeon in June and had the procedure done with no wait, but I'm waiting for the head of plastics at the hand clinic in the best hospital in Toronto. I told him I was happy to wait till September to schedule a date with him. Nerve pain in the hand is so incredibly delicate, and I'm not taking any chances on this procedure the second time around.
Motivation by the way of race entry
Run club sent an email blast about a relay race and I signed up instantly. Races motivate me to start training! Typically, I hate running in the heat and only do Sunday morning run club in the summer, if any run club sessions at all. Summer is all about bikes and open water swims for me (more sports I've abandoned…eek). But I know I need this, and I have access to indoor tracks and treadmills if I really feel like a baby about the heat. That $42 was not budgeted for but should help me lower the spending on drinks and going out from here on. I can't hit a patio after work if I have training to complete.
And yes, drinking is something I'm cutting back on. I can see from budgeting that I'm doing too much of that, and it isn't good for anything on my plate right now (work stress, inflammation in my hand, sleep issues, fitness). I have a music festival at the end of the month ($52) and that will be my next entertainment event with alcohol. I'm going to budget for that out of my next check.
Does anyone have tips for spending cutbacks? I'm almost at the point of giving myself monthly cash for groceries because it seems too easy to go over with my card. I am meal planning and eating at home effectively, but still spending a lot. I'll reiterate, I'm in the "data collection" phase, so there will be a reckoning of sorts at the end of the month.